The past is the one thing we all have in common; we have one. Yours is different than mine is different than my neighbors. Regardless of where you are; forgiving the shame that comes with it will set you free. There is no doubt as I am right here right now with this message. Freedom from the shame of your past is for you.  You see; the past can and does destroy your future if you are not careful. Shame breeds itself in ways most don't recognize. Forgiveness changes that; and it changes lives.  To get free; forgive. Forgive the shame. Forgive the past. Simply forgive.
Forgiveness heals. Pain hurts and when not dealt with it continues to hurt.  Life is painful and whether you are feeling shame from having an affair, an abortion; or even murdering someone going through the process of forgiveness will change your life. Oh you didn't make those mistakes? Ok; forgive yourself for lyining to your parents, cheating in college, stealing from your employer; or kicking that little dog. Living in shame only breeds condemnation, self-loathing, embarrassment; and all the other cousins that truly do make life and the future unbearable. Forgiveness heals your heart allowing you to move forward toward self- acceptance. Forgive yourself today. Do it now.
Forgiveness changes your perspective. We all make mistakes; some larger than others. What's ironic about this is that we think we are the deciders on the sin scale. Are you aware that Jesus died on the cross for you and that a sin is a sin is a sin? There is no measure of yours is bigger so you deserve less like many people believe. Even Jeffrey Dahmer was forgiven! Through one act of forgiveness not only is there healing but a perspective change. I learned years ago when I forgave my biological mother for abandoning me that  there was another side to the story. Duh! My perspective about the situation and what truly happened changed. My perspective toward her changed. The shame I carried for so long about being a throw-away changed. I was no longer this person who was just dumped and not worthy; I became a person of purpose. I became a forgiver! Forgiveness  reveals much more than you can possibly see when there is shame from your past living inside you.
Forgiveness frees. I wanted freedom for so much of my life but didn't know what it looked like! It doesn't come in the form of big houses and dollar signs! It doesn't come in the form of luxury cars and love for a night. It can't. Those things in some ways only breed more shame when they are not kept up because they were sought after for the wrong reasons. Forgiveness frees people from all the pain, shame; strife that is in life. We all have a past. We all have done things that we may not want to admit, accept or see; and the best news is that through forgiveness you can be free. Free indeed! He died to set the captives free and when I really grasped what that meant I was no longer a slave to the shame of what I had become. No longer was I bound by my wretched ways. No longer was I a prisoner in my own self. I was free through forgiveness.  And you can be too.
If you are living in the past that bondage will keep you there. It will keep you being the victim instead of the victor. It will keep you being pathetic instead of powerful. It will keep you in religion and not relationship. It will keep you under instead of uplifted. It will serve nothing good in your life because it can't. There is too much in your future to allow your past and the shame of it to be the center stage. If you are not experiencing true victory in your life then it's time to forgive. If you spend more time thinking about the mistakes you made it's time to forgive. Forgive yourself for what you have done. Forgive yourself what you have become. Forgive yourself for thinking you are less than what He says you are. it took me a long time to grasp that lesson dear reader; but now that I get it I am free. I am free to forgive and go live. It's waiting for you too.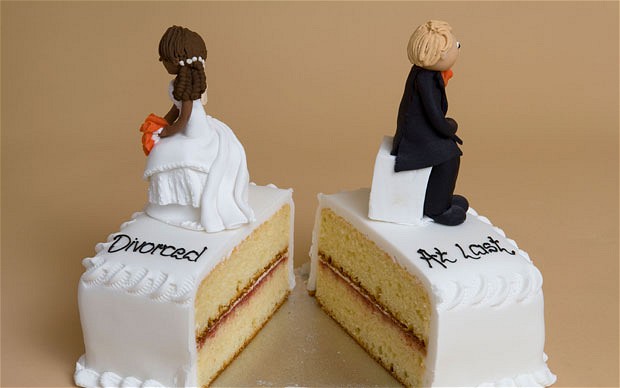 It's not surprising in our self absorbed society to hear when a famous couple gets divorced. It happens daily and probably will continue as people continue to live more for themselves and their own likings. It's just part of life. It is not possible to be in a healthy relationship and unforgiving at the same time. Perhaps we all could use a refresher of how to get over ourselves; and some more than others but I digress.
And so it goes; unforgiveness and divorce are linked. Unforgiveness does more harm to our lives than we realize and rightfully so as who truly wants to take the responsibility of looking in the mirror to recognize faults that are doing harm to self and others? I know I sure didn't! Once I did though; my life and everything about it changed. If you are married and want to stay that way perhaps you should take a personal inventory so that you don't lose the one relationship that you vowed would last until death do you part. In my post: https://julieblair.com/unforgiveness-causes-divorce/ I shared three ways that unforgiveness causes divorce and while you may think that is it; nope. Just wait!  There's more. Isn't there always? On a topic as important as this we need to get it. The additional ways unforgiveness causes divorce are that it:
1. Depletes Intimacy– When couples are not enjoying each other's company; the communication changes. Because you can't not communicate you are still sending messages although not the ones of love and passion. When husbands withdraw from their wives it is as painful for the wives as it is when wives withhold sex from men. The level of rejection both feel through that separation leads to much change within each person, their marriage and into the rest of the family. Everything within a marriage starts in the bedroom and if the bedroom is as stiff as many boardrooms it's evident what isn't occurring. Forgiveness will restore that intimacy.
2. Builds Bitterness- Bitterness is spiritual poison. It rots the bones. It destroys the heart. Those at Harvard know this; even though it's in the Bible in the Book of Ephesians. The Harvard findings  in a 2005 reveal found that forgiveness reduces stress on the heart. Bitterness is a symptom of unforgiveness and the longer a spouse is bitter the more poison there will be in that marriage and as a result; the entire family. Bitterness and marital bliss cannot cohabitate. It's better to not allow bitterness to rot your bones and wreck your life!
3. Keeps you self- focused. Unforgiveness in a marriage will keep the unforgiving party focused on self. It is not possible to be loving, forgiving and self-focused at the same time. When people are unforgiving it shows. It is reflected in their behavior, what they talk about, how they talk; and every other thing in the unforgivers life that revolves around self. To it's end; a self-focused spouse will in the end leave the other with feelings of abandonment, rejection; and in the arms of another. People are not perfect and unforgiveness will blind you to this.  If you are more focused on what you want for your own personal gain in your marriage; ask yourself if there is something your spouse did that you have yet to forgive. You probably already know the answer.
The bottom line is that unforgiveness kills. It destroys. It comes like the thief in the night; when you least expect it. It infiltrates lives and marriages to the destruction of them and if you are not quick to forgive you may be its next victim. Don't be a statistic. Forgive. Your spouse will thank you.  You will thank me. And we all will live happily ever after.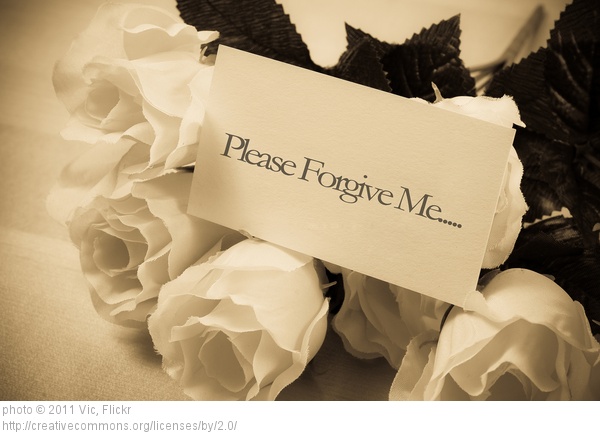 It's no secret that divorce is rampant. It's rampant everywhere; not just in Hollywood. The divorce statistics of those in the Church are just as high so apparently the lesson of forgiveness needs to reach us all!  Perhaps marriage vows should read something more like, 'Till I want to part because it's Tuesday' and not ' till death due us part' because people really just don't get it. It would make sense really since in today's society it's more about having million dollar weddings and marriages that last oh; a couple of months.  And that's a big maybe. So what's the issue causing such divorce at record pace?
Unforgiveness. Yep. Sure you may be thinking, "Well, I have grounds. He's not the man I married." Or you may thinking, 'She's changed.'  And so? If she or he didn't change you would be mad about that too so what really is the point? This is where we have it all wrong! Our society has deemed marriage disposable and worthless and the people in it are just as pathetic by the day of divorce decree. Are we just that selfish and narcissistic to not stop and see it? Anyone anywhere can come up with a justified reason for anything; but it doesn't mean it's good or even right; or even the best one and may see after the fact that the grass is greener on the other side but they still have to mow it.
See; the infidelity, withholding sex, silent treatment, drinking, not spending time together, growing apart, waiting for the children to go to college, job loss, income issues; and all the other things related to the reasons 'why' are just symptoms. Every single thing that is the cause of divorce is symptom related. The real issue is beneath all of those symptoms and most couples never recognize it. Why? Because they are too busy blaming and trying to be right rather than forgiving. If only couples would learn the lesson of forgiveness NOW so that these problems don't become the cause of divorce we may have more marriages that actually do last a lifetime.  So how does unforgiveness cause divorce?
1. Unforgiveness keeps you focused on the symptoms. When you are focused on the symptoms you aren't able to see the problem. Why are you not having sex with your spouse? Why are you not spending time together? 'Not having time' is an excuse not the reason.  People make time for what is important. If you are not then ask yourself when it's divorce time who's fault is it really? What am I doing or not doing that has my marriage where it's at?
2. Unforgiveness is a victim mentality. We are all victims of things other people to do us at some  point in life. None of us are perfect; none are immune. If you are living your life as the victim of what your spouse did to you it's clear sign you have not forgiven. Period. If you want to get a clear picture stop and reflect on all the things that you have done that probably hurt your spouse in some capacity.  Stop blaming your spouse when you are in the same marriage! Start forgiving.
3. Unforgiveness keeps you focused on the past. Unforgiving people live in the past. It's all about what happened 'way back when' which really has nothing to do with 'now but never mind actually bringing that up with them because it's a moot point. That person will have plenty to speak about about how you missed the birthday party five years as a former neighbor of mine would remind her boyfriend every Friday night at the midnight living room fight. Clearly; a sign that they were not able to move on because she just could not let it go. It was five years ago! If you are hoarding the mistakes of your spouse from even yesterday it's time to forgive. And quickly otherwise the resentment, bitterness and all the other symptoms will be evident to the extent of the death of your marriage.
If you want true freedom in your marriage; forgive. You don't want to let the mistakes your spouse made destroy what you have invested your life to build. Don't be like those in Hollywood who learn of their husband's former flings and then harbor it for selfish reasons. It's not worth it. It's not to say that forgiving someone is easy because we all know it's not and this is not a prosperity message. This is message written to save your life, your marriage, your family and your future. Take it serious while you still can. In case your forgot: forgive.
When people come together for any reason; things happen. People make mistakes and people get hurt.  It's the nature of people in all our intelligence and glory. Forgiving others in a community will always prove to be a challenge; and one that some may not take to.
The mistakes that people make can and do destroy communities. There is no way around it and for some; the devastation is never overcome. The pain of lives torn apart, the hearts left grieving; and the unforgiveness that settles in all reaps what it sows. It is something that only those who have experienced it can truly understand. It paints a picture of pure destruction in the most concrete of ways. It begs the question: what does a community do to overcome the mistakes others make to forgive? It's simple although not easy. Forgive. The lessons are these:
1. Forgiveness is about individual healing. Forgiving others has nothing to do with what the other person did. It just doesn't. While it may appear so because the wounds others cause are so deep we must remember that individual peace is worth more than harboring unforgiveness toward someone who chooses to live in hurting others.  It is about each person making the choice to forgive for self freedom. Period. Of course it does not admonish what the person did that caused the pain in the first place; however, that person  is the one responsible for the outcomes of his or her actions just as each one of us are. What do you want to be responsible for?
2. Forgiveness restores communities. When you make the choice to forgive life changes. When a community of individuals come together in forgiveness hearts are healed and what occurred in the past while remembered; isn't filled with the focus of what occurred and the pain that was associated with it. What it is filled with is hope. Hope for a future. Hope for what should be. Hope for what is to come. Know that it does take time; however, the steps toward restoration begins with forgiveness.
3. Forgiveness paves the way to the future. In order for anyone to progress forward toward a fruitful life forgiveness is the roadway toward it. It removes the stumbling blocks and all things hindering what is to come. There is never a reason to allow people and their mistakes to be a roadblock to your future; or the future of the community you are part of.
People come together for a variety of reasons in life. It may be church, dancing, football; or even board games. People that come together are not perfect and while the mistakes they may make be illegal, harmful to children; and even harmful to themselves what they do should not be allowed to control what others do as a result. None of us are any different. We make mistakes, we hurt people; and we all have at some point needed forgiveness and have been asked to forgive. I encourage you to take the challenge and forgive. Then move on to the future that is what you were on your way to in the first place.
It's hard to know what goes through the mind of someone who committed suicide as each person and situation is different; along with the outcome. It changes the lives of the living in ways that one can't truly explain. It just happens and for most; unexpected. Should there be forgiveness? And to whom? Forgiveness in suicide is something that proves challenging to overcome for the living.  Through forgiveness; however, life will get better. While no longer the same; it does continue.
In the situation of Robin Williams; forgiveness is no different. No one truly knows what he was experiencing, how he felt; where he was or why he did what he did. There is only mere speculation. Nothing more. For those who too have been there forgiveness is needed in order to heal. What aspects of forgiveness are needed you ask?
Forgive the person for taking his or her life. What the person did, for whatever reason, still proves selfish on many levels. You are left with nothing. No answers, no understanding; and in some cases no warning, financial security, no mother or father for the children. Nope. You are left with nothing. Unforgiveness toward that person left not dealt with will breed future consequences. Of course it will take time to recover, heal, and begin the process of living again although it is doable.
Forgive yourself for not intervening. Of course there are the 'if only's' that come to mind coupled with the 'what if's' and in reality; there is nothing that you could have done because most likely if you could have – you would have. Those who have suffered great loss at the hands of suicide know this. You know that if there was something you could have done that you would have; all because you love that person. You know that you would have without a doubt put your life on hold for the benefit of that loved one. And after that fact doesn't change anything. Not forgiving yourself for what you could have done that you didn't do that you didn't know needed done won't bring someone back. It never will. Understanding and recognizing that regardless of what other people do; forgiving yourself is something you can't not do. Harboring unforgiveness toward yourself will not free you. It will create more bondage and will keep you living in what someone else did that in reality; has nothing to do with you. Forgive and heal.
Suicide is tragic. There are no words to describe the level of emotions that one experiences as a result. There is no way to predict what people will do; or won't do at any given time. The only thing that you can do is make the choice that regardless of what other people do; you will forgive. It is the best way to live and the biggest gift of life that you can give not only to others but to yourself.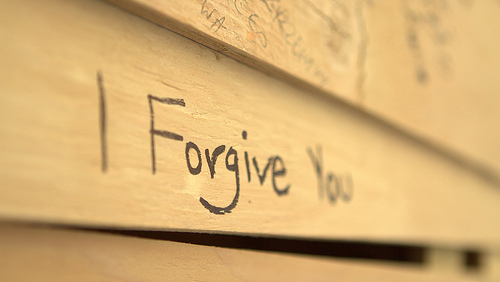 Forgiveness is a lifestyle. Forgiving God in the realm of spiritual abuse is also part of that lifestyle. It's a tricky thing for many to comprehend because it's hard to decipher religion from the abuser, from God. Not only this; most struggle with why God would allow them to be abused in the first place. Perhaps you know from experience.
Many people leave the Church and for good reason. It's based upon man-made ideas, rules, regulations and quite frankly bondage. Spiritual abuse creates another level of bondage that does more damage to people than most recognize until they recognize it. The one step to freedom is forgiveness. Forgiving the abuser is one thing. Forgiving yourself for getting yourself in that situation in the first place is another. And finally; forgiving God for letting you be on that path and stay on that path is something different altogether.
Regardless of the length of time you were abused; forgiveness is your key to freedom. Forgiving God for allowing it to happen is really vital to your future because:
1. God gave you free will. You have to know that you made the choice to be in that situation. God didn't put you there for you to be miserable and abused. You chose 1) to enter the situation, 3) to stay in it, 3) and then to leave. Blaming God for what you chose is not going to free you. This is an extremely tough thing to grasp and understand; however, when you get to this point of revelation that yes you were part of it your life will change. It doesn't change what you have lost although it will help you to go forward toward the wonderful life that He does have waiting just for you.
2. God will never leave you or forsake you. Regardless of the choices that any of us makes; He loves us more than He hates the mistakes we make. He is with you regardless of what you have done. He really is the constant and most consistent of anyone you will ever meet. He is the same yesterday, today and forever and His intent is to bring you and hope a future and through the times we make choices that get us off track; He will be there to help you walk step by step. Just allow Him to reveal Himself to you.
3. God doesn't want you to be in pain. God loves you. He is like the daddy that just wants the best for you. Do you think your father would want nothing more from you than just to live in pain being spiritually abused by someone with an agenda that may or may line up with God's Word? Of course not! He loves you and the more time you spend being unforgiving is less time than you are seeing just how loving He truly is.
It isn't easy going through spiritual abuse. The pain of those trusted and who far off they are isn't easy to accept. The reality of time lost, personal changes; and the depths of what is stole isn't easy. The great news is that there is a Father who loves you who is with you. There is one who while didn't stop you; let you learn those lessons. There is One who will be there to walk with you through the outcome and to show you true victory in your future. Through this; forgive Him for what you have been deceived to thinking to date because He was only there with you while you made the choice. Through your forgiveness in the end; you will not only see that but also see the wonderful future He created for you to live.
Many people who experience spiritual abuse aren't aware of it in the beginning or in process, else why would they be in it in the first place. Reconciliation of events that occur over time require forgiveness and through that come healing and restoration.
See; those who are abused don't wake up one morning and go search for the abuse. People don't t wake up one morning with thoughts of 'Let me see who I can find to hurt me all in the name of Jesus. Let me see how that would feel for a years.' People don't just knowingly do that.
It's what happens though. It happens all over the world and on a daily basis. People get involved in churches, Bible studies; groups of people whom they begin to build relationships with and over time things change. The abuser is the one in charge and leading people down a path; that most of the time is about his or her agenda. The unsuspecting attendees are all about the mission at hand. They are happy to be a part of doing something for the greater good and life change is just part of the process. Never mind the change more often than not is not the change anyone would want to experience.
It isn't until things happen and eyes open that the reality sets in. It may be a person speaking the real truth, something that you now pay attention to that you have been hearing for years; or just that you get to the most absolute lowest point of your life to where suicide is the most freeing way out. Regardless; learning the truth will make you free!
It's through learning the truth of the abuse that is probably the hardest. Nothing is as you expected it to be nor can it be. Time has passed. You have passed. You are no longer who you were to do what you were called to do all those years ago and you can't get them back. Time; is gone. How do you reconcile that? How do you reconcile what you have lost? How do you reconcile what you gave up and what was stolen from you? Simple. Forgive.
It is one of the hardest things in life to forgive. There is damage beyond what most people can grasp or understand. People took advantage of you and while they did it; you too were there. You were willing to be a participant. It was your vulnerability that allowed you to be in that position in the first place. Forgiveness will remove the pain to allow you to go forward.
Forgiveness will reconcile you from the past. It will not get back those lost years. But it will give you much to go forward with. It will free you from any attachment to those who abused you. Forgiveness will free you from the choices you have made. Forgiveness will allow you to see your new future in the way that you were probably able to see it long before your abuse began. While a process; forgiveness will set you free. Forgiveness will reconcile you with who you used to be and the real you to where you are going.  And if you want to get going-forgive and be reconciled. You don't want to lose more time when your future is waiting for you.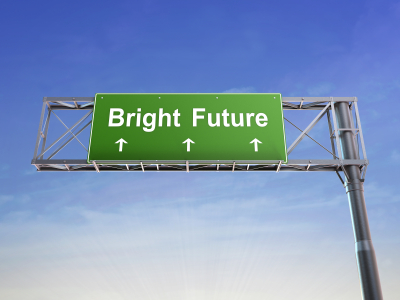 Spiritual abuse is hard to walk out of. Nothing is as it was nor will be ever be what it is as this very moment. Life is different and so are you. The good news is that your future is bright. Let forgiveness reign so you can get to it!
If you spend your time focusing on what has been lost; you will only lose more. It is not possible to gain and go toward a future while focusing on loss at the same time. Your future is waiting for you. While it may be difficult to see in the beginning know it is true. You are still standing and that is what is most important. If you weren't you would have no testimony right? But you are here. You are triumphant. You my friend, are a survivor and of much more than you can ever realize.
As you look toward your future know that those in your path and past are  and have served a purpose. What those purposes are are different for each of us. The good news is that through forgiveness you can see the purpose and go toward what is waiting for you.
There is no time like the present to let the past be what it was which was a journey. There is no time like the present to stand tall in who you were truly created to be and go toward the leaps and bounds waiting for you. Perhaps it's moving to a new state. Perhaps it's changing careers. Perhaps it is walking away from Church and into relationship with Jesus who has walked with you through the entire ordeal. Perhaps it's just time for you to stand alone and see life in a new light- and in a sparkling pair of Christian Louboutin pumps!  Regardless of what you are about to do; the best news is that you are still standing to do it. And that is the best thing you can ask or hope for!
There is much about spiritual abuse that is not talked about; especially the signs. People today just follow without thought; clueless of the sheep in wolves clothing preying- just waiting for the attack. It's time to get it folks! Spiritual abuse and the warning signs are there-if you only pay attention.Forgive yourself if you haven't and keep reading! Warning signs of spiritual abuse:
1. Misuse of scripture. If your pastor, spiritual mentor, adviser, etc. is misusing scripture it's a red flag. If that person tells you things like 'those who give the most get blessed the most' and cites a variety of scripture- it's wrong.
2. The person is controlling. There is a difference in leading, managing and controlling people. Oftentimes people get them confused and believe they are being led when in reality they are being controlled. Controlling people create expectations of you where you fall under their accountability, you become responsible to them; and you begin to live according to their ideals and expectations.
3. The person tries to change you. When someone tries to change you it may be blatant or subtle and it is your responsibility to discern between the two. A person who tries to change you will do is slyly with things that seem as coaching when in reality are not. It may be under the guise of a different lifestyle because you are now a Christian when in reality; that is the job of the Holy Spirit to bring about change and not other people. If someone tells you how to dress, wear your hair, who to spend time with; and other things like this it's time to see it and run fast. Run Forest run!
4. The person has an agenda for you and your life or future. At time of meeting this person your life may not be going in the direction you thought. Well; great news! The person has a perfect life for you- and it just meets his or her agenda. You get involved and your life will become this or that when in reality it probably has nothing to do with what you set out to do for yourself. By the time you realize it; it may be a few years later and you are worse of than you were before you met. If someone has the goal of changing your life for his or her benefit that is not someone you want to follow.
5. The person puts down things you like or don't like. If things you like or dislike are made fun of it's a red flag. You do not have to like what everyone else likes and if a leader or spiritual mentor attempts to change what you like in the name of whatever religion that person is following it is not right. What happens to those following such leaders is that they start second guessing what they actually like; lose their identity, and then become lost people with no ability to think for themselves. It's a great position to get people in for the leader because people with no identity or ability to think for themselves are much easier to control.
6. The person isolates you. If you change all of your friends in your life because they are not on the same page as the direction you are going; rethink it. Rethink it especially if it's unanimous of all of your friends. Someone who attempts to remove those closest to your life is only gaining more power and control over you by mind controlling you to think that your friends are just not with the program and are not going where you are. Duh. No one is going right where you are because your life path was already made for you and no two people have the exact same life path; twins included. Isolation from friends and family is a control tactic so be wise to it.
7. The person steals your identity and value. If you begin to lose who you are, the things you like and enjoy that is a problem. If you are around someone who mocks what you eat and where, how you style your hair, your wardrobe choices or even what you do for a living; run. If someone tells you that the changes you are going through are normal and when you are finished you will be who you are; run. You were created in the image of God and no man has any authority to change that-unless you give it up. Don't. Changing who you are is an insult to God.
8. The person is the only authority in the group. If your spiritual mentor, adviser, pastor; etc. etc. is the only authority and one allowed to speak that's a red flag. It's a control of information and the person in charge is the only one with it. When people start bowing down to one person as the leader and all knowing it is not right!
9. The person keeps group members isolated from one another. If members of the group, study, etc. are not encouraged to spend time together it's a red flag. Why? Because they will talk and if they talk- who knows what will be talked about. When people are isolated from one another the only contact would be from each person to the leader and not person to person.
10. The person has no fruit in his or her life. Look at who you are following. Where is the fruit? Does that person walk in love? Forgiveness? How does that person treat his or her spouse? How does that person treat others? Is the person a racist? What are the relationships of that person like? Is there fruit in the family and friends? If there is no fruit then there is a reason. While the reason may not ever be your business the fact that there is no fruit is all you need to know.
Spiritual abuse is something that is more common than people think. Those who are unsuspecting get themselves into situations that they didn't even realize and before it happens to you- take note. Be wise and discerning and pray for wisdom daily and then apply what you learn. After all; it may be save your life.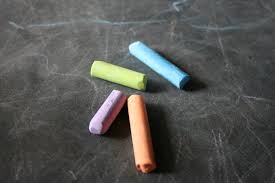 When people have been abused by religion, their pastors; or their church there are many lessons to learn. Spiritual abuse requires forgiveness on numerous levels. Many don't see it; and most don't know it's occurred to them.
Every single person who has victory over spiritual abuse has a testimony. Those testimonies are nothing to be ashamed of but rather celebrated because there is victory in all things. It's a matter of perspective and your victory may be just what the person on the subway next to you is needing to hear about. The lessons are many and I begin with a few simple ones:
1. Forgive. Forgive the spiritual abuser and forgive yourself. Both are lessons that are needed to be learned and master so not to be repeated.
2. Know the Word. Your pastor may say this or that; but so what? If what that pastor is not lining up with the Word of God and you follow it; you are in trouble and in more ways than you think. Your life is your responsibility. Knowing the Word helps you spot counterfeits or the wolf in sheep's clothing.
3. Stand up for Yourself. Don't allow someone to control you in any way; especially with the misuse of scripture. If you are not sure what the intentions are; ask. Then pay attention to the answer spoken and 'not' spoken. The answer is always there it's a matter of paying attention to it.
By walking in wisdom you will far better than being ignorant following someone who may or may not have a clue, your best interest; or a personal hidden agenda. You, my dear reader, are the only one responsible for your actions and life so don't be swayed by the ideas and thoughts of others if they are not lining up with the Word. You certainly will be glad you did!