You have a future. Your future through forgiveness will be much different than what you ever could image at this very moment. How do I know? I am living it! I never thought that my life at this very moment through forgiveness would be what it is. Praise God! And I share this with you so that you too can live a real life that isn't filled with the things of the past.
I was one who knew there was a call on my life; like most people. I didn't know what it was. I didn't know how to get to it; and I didn't know what I didn't know. And what I didn't know what the one thing that had the most significant impact on my life. Forgiveness.
Forgiveness changes life. 'Sure sure' you may think but until you go through the full experience of forgiving you can't quite know. Until you grasp the depth of what it is and how life changing it is you can't know. It is no different than seeing pictures of the Eiffel Tower compared to being at the top of it or getting married in it. You can't fully know something until you experience it.
What I have learned through forgiveness is this:
1- You are a new creation in Christ. You are never the same person. You can't be because it is Him working in and through you and when we surrender to allowing that; we are never the same.
2- Your physical manifestations of unforgiveness are gone. When I sat in my room for 2 days dealing with 'all' of my unforgiveness my life changed. I knew that. What I didn't know what that my voice changed and my eye color changed too. See; the pain and emotional turmoil we go through takes it toll. It manifests and when there is a release; the release is more than we can imagine at that current time or moment. It was huge for me!
3- Your future will come forward. When you make the choice to forgive your future; your real future can be revealed. Before I made the choice to forgive and before I understood 'all' of what it is and how it is life changing; I didn't know. I didn't know the magnitude of what good would come before me and to me. There is no way to know. When there is forgiveness in the way it blocks you from living out the fullness of what is intended for you.
I thought in the past I was living what I thought was a good life; until I started understanding what my life really was and what it was to be.  Through forgiveness I was healed and could see what was really set aside for me. I could move toward life in freedom and toward purpose.  Forgiveness paves the way . And it will for you too. Your life won't be the same because you won't be the same. Your future will be forever changed as mine was. And that is the best thing in the world.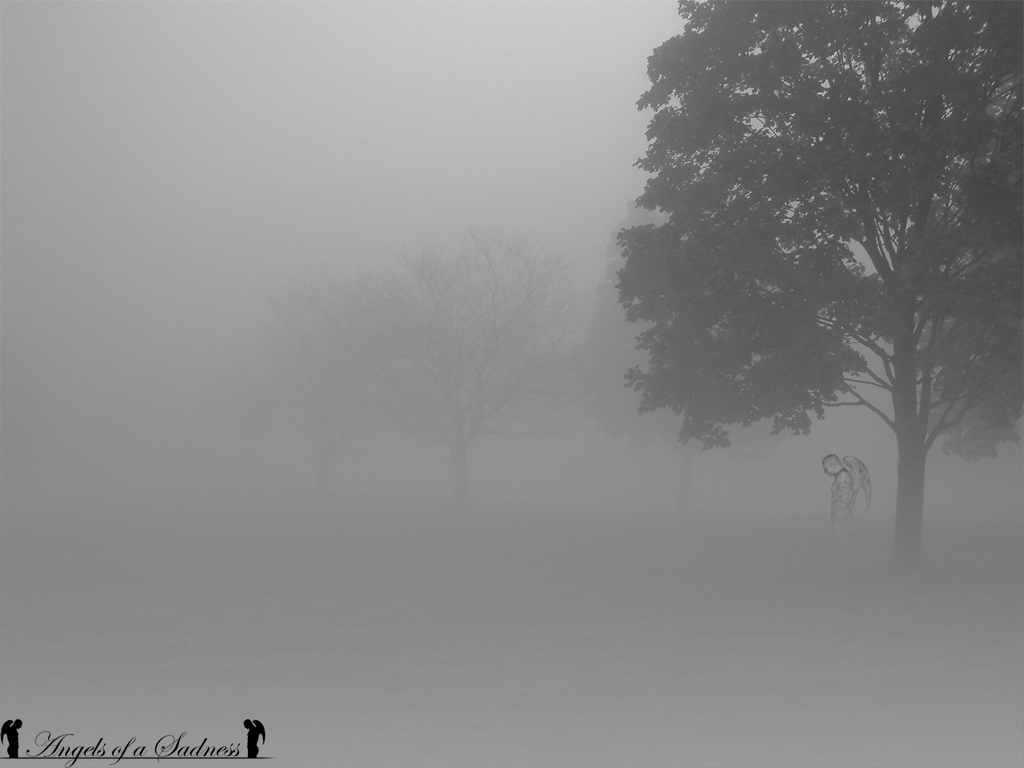 Forgiveness is something most struggle with. It's hard when people hurt you; or you hurt yourself. It's hard to overcome and be the stronger person yet it's the strong who forgive and survive.
A recent article about Mr. Mark Wahlberg and his request of a pardon for his mistakes is one of interest. In the 1986 Mr. Wahlberg was involved in a racially motivated incident. He is not unlike many others out there who are racially motivated regardless of what race.  The point isn't about what Mr. Wahlberg is or is not; which is where the story gets interesting.
Ms. Atwood was part of the group that heard the racial remarks and the rock throws from Mr. Wahlberg in 1986. Her reply about whether or not he should receive a pardon: "I don't think he should get a pardon," Atwood said.
"I don't really care who he is. It doesn't make him any exception. If you're a racist, you're always going to be a racist. And for him to want to erase it I just think it's wrong," she said.
When there is forgiveness of sins; there is freedom.  Freedom for the person receiving the forgiveness and for the person giving it. When there is a harboring of judgment toward someone for his or her sins; it builds into resentment, bitterness; and judgment. Whether someone attempts to try to erase what he or she has done; is not for any of us to decide. Each person is accountable and that is that.  We do not truly know the inner motives of man; but God surely does.
Through this situation Mr. Walhberg is in of interest because it isn't new. There are people everywhere involved in race situations; Mr. Sterling being yet another. Being a racist is not a crime; it is a heart condition. Until we understand that and get to the root of the problem; we will never get to the correct solution.
When you  person makes the choice to forgive; you won't continue to request the person who hurt you to continue to suffer. You have moved beyond that. It's about time that we wake up and recognize that forgiveness and covering the mistakes of others is a true act of love.  If we don't  get that we are going to experience more than we will be able to face. So today; forgive, love; and walk in peace. 1986 is gone.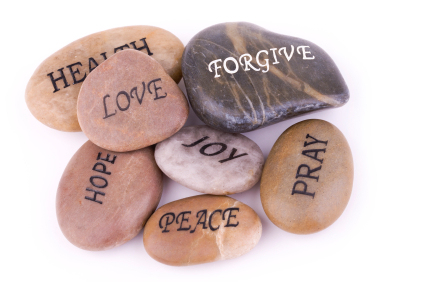 Forgiveness is a process. It is a journey and no two journeys, people or situations are alike. As such the process of forgiveness is as unique as the person in the situation forgiving and being forgiven. Where most people fall off track is the recognition that forgiveness is a process.  It takes time and persistence; not just lip service. Anyone can say they forgive yet still exhibit the more than 30 symptoms that are evident in unforgiveness. Forgiveness goes deep and when you are willing to go deeper than you ever have before; you will gain and live that victorious life you were created to live.
To understand the depth of forgiveness requires recognition of forgiveness and the need for it in the first place. Forgiveness is an act; something that one does. It is not passive. It is not something that just happens because you thought about it once back in Vietnam. It is active and depending upon the act needing forgiveness; it can take longer than one realizes.
In my life I thought I forgave. I told myself I did; for more than 3 decades. It wasn't until those with the gift of discernment that spoke truth to me and I realized the truth. I deceived myself. I had not forgiven. In fact I didn't even know what forgiveness was! It was time for me to get real and deal with myself; my unforgiveness. It was a process and more on that but rest assured it was a process. It will be for you too but moving through the process is part of the victory. Starting somewhere to accept that it is something you need to do is the first step.
Accept that forgiveness is a process. It is your journey to internal peace and freedom. It begins with you making the choice to not allow what someone has done to you to rule your life. It is perhaps crying about the pain and allowing the release to come. It is maybe even getting mad or even angry about what happened. It is what it is but rest assured forgiveness is a process. Let it be yours today.
Forgiveness is something that impacts every single living person; regardless of anything. It doesn't matter socioeconomic status, age, gender, marital status; nothing matters. Forgiveness impacts. Where forgiveness begins too has impact. The question is where does forgiveness begin?
Forgiveness begins in the mind. You see; forgiveness is a choice. Where do you make any choice in your day? Your mind. Sure you may feel something in your heart but regardless of what you 'feel' you still make the choice in your mind. The choice to purchase the fabulous pumps, eat this or that; exercise or not exercise all begin in the mind. Adam and Eve were faced with a choice to be obedient and eat from the tree. They didn't have to make that choice; but they did. They made the choice in their mind. They knew what they should do but again; they made a choice. The wrong choice. And that was conceived in their minds.
So what is in your mind? How do you make decisions? What is the level of forgiveness that you want to achieve in your life?  What is the choice that you are going to make when it comes to forgiveness?Are you going to allow how you 'feel' be what you live? Are your emotions ruling you? It's not like most people want to forgive the pain that others caused; but know that it is the strong who forgive.  Are you strong? Make the choice to be strong and let your mind be the residing factor of that. After all; it is where forgiveness begins.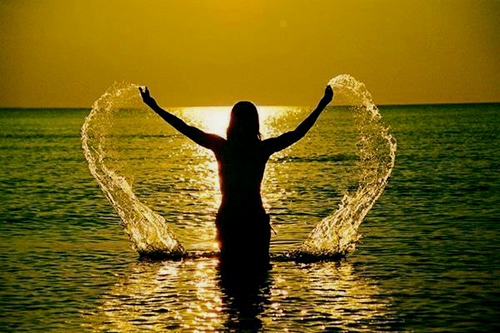 Forgiveness is a lifestyle; just as much so is unforgiveness. Creating a lifestyle of forgiveness is doable. In fact for Believers it is a command to live a lifestyle of forgiveness. When Jesus was asked by Peter how many times one should forgive He simply replied, 'Jesus answered, "I tell you, not seven times, but seventy-seven times.' Matthew 18:22.  Therefore; living a lifestyle of a Believer is there and available for you. Yes you! So how do you get there?
1. Recognize that you have the choice to forgive. The choice to forgive is yours. The choice to not forgive is also yours. When choosing a lifestyle that you want that brings the most peace it is a choice. You have the power to choose and making the choice is the first step to living your life empowered and moving in the right direction for your life.
2. Accept that people make mistakes. People let people down; it is part of life. When we focus on what others do we misunderstand that they are not perfect. Only Jesus was and is perfect and when that level of expectation is placed on others the mistakes they make reign control. When you understand and receive the revelation that people are not perfect and do not allow what they do to control you; you will be in better position to live in freedom and forgiveness of them for their mistakes.
3. Accept yourself. Accepting yourself is part of a lifestyle of forgiveness. Regardless of where you are or what you have done; self acceptance is a major component of living a lifestyle of forgiveness. When you accept your imperfections and mistakes; peace can enter.
The lifestyle of forgiveness is one that requires daily maintenance. Life happens. It's what you do and how you handle it that matters. The choice ultimately is up to you. Forgiveness or unforgiveness is a lifestyle and the choice of what you choose is yours.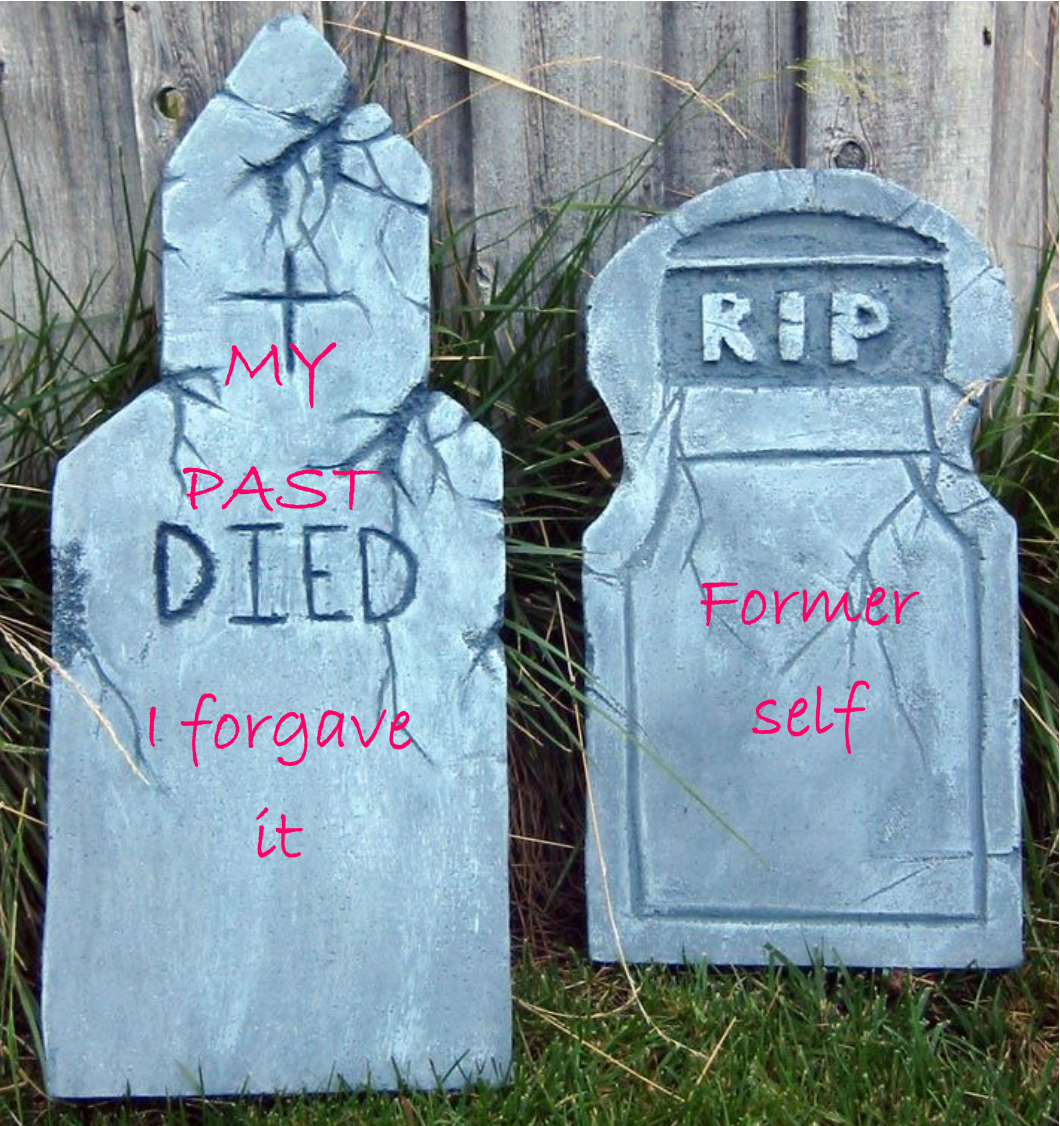 The past is over yet people for some reason enjoy living there. Forgiving the past is hard. It's hard to let go of how great you were, how popular you were; or even how tiny you were or muscly you were. It's hard to forgive it. It's hard to look forward though when you haven't forgiven your past. It has brought you to where you are today so be thankful for what it is. It's over.
When you make the choice to let go of the past you will live in freedom.  Three main reasons to forgive the past are simple:
1- It served its purpose. The past came and went; like that Gucci handbag that you once thought was cool. It too served its purpose. The past is no longer and so forgive it for being perhaps not the best. Forgive and say 'thank you' and move on. You are better off moving toward your future without your past! At least I know I am!
2- It isn't where you are going.  Unless you are going backward then your past is not where you are going. You are moving forward and your past is not. This is unless you continue to live in. Many people choose to live on Last Year or Last Decade Lane by why? You will never see where you are going if you spend more time looking back. One only need to be reminded of Lot's wife who turned to look back. You don't want to be a pillar of salt now do you? Then don't look back to what isn't part of your future. It's not worth it!
3- It will keep you in bondage. Bondage and baggage are two twins to get rid of; and quickly! Your past has come and gone and you trying to hold on to it will only keep you living it- repeatedly. When you make the choice to get rid of it and to be free and forgive it you will truly be moving on toward the greatness that is within you- especially if you are a Believer that greatest is in you!
Holding on to your past hinders your future. Until you forgive your past and let it die and then die to self; your life won't be what you truly want it to be. It can't. You are in your own way. And you my dear friend are worth more. Your future is worth more than your past. You are worth more at this very moment; more than you realize. So let it go. Forgive. Let it die. And then say welcome to your future you fabulous you!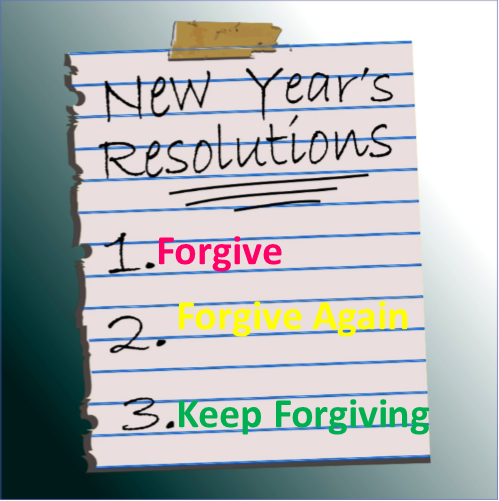 The new year brings many resolutions. Lose weight, be nice; clean out the clutter and the list goes on. The one resolution that should be part of your new lifestyle of the new year is simply this: forgive. Make a life of forgiveness your new years resolution. It's that simple. Just do it!
Why? If you want healing then forgive. Healing comes through forgiveness. Restoration can come through forgiveness. Weight loss is spiritual terms comes through forgiveness. Broken hearts too are healed through forgiveness. In my case; my eye color changed through forgiveness. Blessings come through forgiveness.
If you are living in lack currently there is a reason and it isn't because everyone else isn't nice or giving to you. There is a reason. It may very well be that you are living in unforgiveness. Make today the day and this moment the moment that you seek Him to know the truth; ' is there any unforgiveness in my heart Lord?' And then don't forget about bitterness, resentment and anger as those also cause havoc on the life of a believer.
Regardless of what someone else has done to you; you are stronger forgiving than you are unforgiving. Don't let the mistakes of other keep you living last year. Start the new year fresh and forgiving! It will change your life and what better way to start the first day than that!