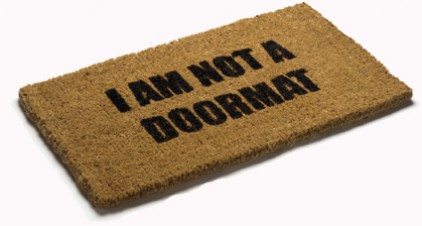 It's a simple question really. Are you a people pleaser? Would you even know it if you were? Do you by chance know the symptoms or results of being one? Probably not as most don't. It's one of those things that is pretty tricky because being a people pleaser always results in someone not being pleased.
People pleasers mean well. The goal typically isn't like that of the narccisist as that person's only goal is to elevate their own self for their own gratification all the while living on Deceit Lane. The people pleaser is different in that it isn't about self-elevation at all; more often it's about the root fear of rejection.  In the end it simply leads to self-destruction.
'Destruction in what' way you ask? Destruction in numerous ways. Let's identify just some:
1- Lower self esteem. Seeking to always please others can't lead to a healthy self esteem or positive image because the very act of people pleasing only steals the person's soul. You see; when you allow people to treat you in a way that they want and not how you deserve it will always be a conflict. When the idea or goal is to please others and it doesn't work most people are left wondering what is so wrong with them that all their effort didn't come to the fruition that they expected. Never mind the fact that trying to please people who don't know what they want never works; but most don't see this because they are too busy trying to be pleasing. In the end; when it doesn't work the feelings of rejection can only creep in.
2- Unhappiness or discontent-Are people genuinely happy? Perhaps although what's ironic is that those who have more money don't prove to be any happier or content than those without. Who knew? If you are on who went to law school because daddy did; are you reeping the rewards of it? Are you truly happy and content with your life? Or would you be happy and content opening a seafood business on the coast of Maine? Trying to please people never leaves the pleaser with the internal feelings of content because pleasing people is a never ending process. One only need to look at any Hollywood star in crisis and see this. Sure some of it may be a marketing stunt; however, it was Miley Cyrus who shared that being a people pleaser won't make her any happier because there are too many people to please. Of course most can thank the Lord they don't have that many people to  please right?!
3- Broken dreams or dreams never achieved or sought after.  Those who are people pleasers put themselves last. The focus is never on the people pleaser; but rather the pleasing. That in an of itself is a pure distraction to living life. Every person was created with a purpose and and getting caught up in the ideas of pleasing others who are going about living their lives and dreams is only pure heartache for the person people trying to be pleasing. If you have dreams and you never wake up or chase after them because you are living an ordinary life people pleasing; then who's fault it is that you never made it to being extraordinary? It takes guts to go after dreams and live your life! What others think you should do is not worth your time because you are the one faced with the consequences of your decision. It's not to say that the opinions of others who are close to you have no value; but you have to discern their motives for you; otherwise you may find that their misery loves your company too much. Who have you been trying to please over chasing your dreams?
4- Resentment- Resentment is a funny thing. Typically when there is resentment; bitterness is there too. Perhaps at times anger and frustration; and all the other cousins. When there is more focus on someone else; who is focusing on you? It would be similar to a wife being focused on her needs and the husband too. Where is the focus on the husband? The opposite of course is true and in the end; there is someone not getting the results he or she is seeking. Please also understand that not only does resentment build toward the person; but also internal resentment toward self as well. Wouldn't this make sense as how many people would be living their dreams of owning a food truck instead of sitting in an office answering the telephone all day because it's the family expectation?
5- It's a trap!-People pleasing is a trap. There is no way around it. It keeps the person's focus in the wrong place with the wrong outcomes; and the wrong perception of self with the wrong internal feelings. It never ends. It doesn't give life; it steals it. It brings nothing of identity to the person who thinks that he or she is pleasing; and it never fills. It is like a cancer that starts slow and then spreads until its victim no longer has a life; no longer has a purpose; now longer has an identity. It's a vacuous soul waking up to die one day sooner. What a waste. One day it is too late as too much time has past and all those broken dreams are gone. Vanished. Just like that.
In this world everyone has expectations. Society of course helps the cause and the advancements in technology push things along as well. You have to do this to be cool, you need to wear this otherwise you are uncool, you need to dine at this restaurant because it's where are all yuppies and guppies go. You need to wear your hair like this because the 'Rachel' is back again. This new hybrid is the latest you need; but never mind the fact that you can't actually get up a mountain in it. Your parents are doctors so why would you be the unfortunate child to go into law instead?
You couldn't possibly take time out for yourself now could you? Of course not! Why on earth stop and take a moment to reflect on whether or not you are living your life for you; or for those that don't care? Who has time for that? Ain't nobody got that time for that! And that- is the biggest problem. A life lived for others who are busy pursuing their own is the biggest strategy to face today. Maybe the time is today to stop, reflect; and dig deep. Are you too busy pleasing others to recognize that in the process you forgot to look in the mirror and see your own reflection?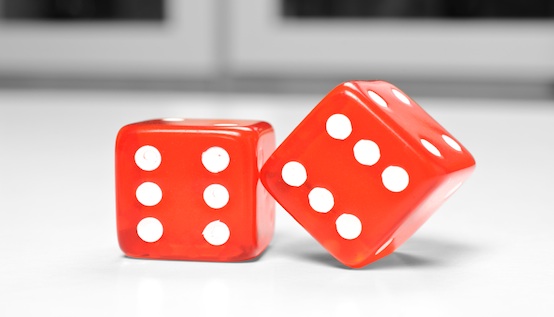 Fool me once shame on you; fool me twice you know the deal. Shame on me right? Does everyone deserve second chances? Are there any who are more or less deserving? After all it was Peter who betrayed Jesus and he was  given a second chance? Should the same be for everyone in every situation? Let's explore.
Everyone makes mistakes. There is no way around this. We all are ignorant and do things we regret or perhaps don't regret but just didn't think through that clearly. In marriage; one obviously has to be forgiving else how can there be an expectation of even staying married? Do you give someone who has an affair a second chance? There are plenty who say 'absolutely not!' while others find that they are able to get past it.
What about in dating? Are second chances worth it? It's different than in marriage because dating brings an entirely different myriad of issues and if you are the one giving too many chances then will you get just walked all over before getting to the altar.
People are who they are they are when you meet them. Ladies pay attention to that! Men; you too. People are who they are when you meet them. Now they may be nervous; but their character is pretty representative of who they are. You don't need to question daily your first impression now do you? So it begs the question: how many chances does one get in dating to profess their love to you when they attempt to stomp on you before you simply say 'no thank you'.
Perhaps if more people up front thought about the manner in which they treat people and were not so selfish; there would be less things to be needing chances for. The good news is that it's great character building! Perhaps if people paid attention in the first place they wouldn't put themselves in such they wouldn't continue to get walked on; but is that really  true? It's hard to know something you don't know and unfortunately; you can't know it until you know it.
The question is: when are people going to see the reality and step up and for their value?
It is no different than if someone starts to build a relationship with another who deems it appropriate to dump via text and then later returns for apology- but does it via  text. How ironic eh? Do you accept it? Why or why not? Do you think that the change of heart is true?  Of course it depends on the situation and the person but bottom line is that it takes more consideration than just a flipid response.
People will show you who they are if your eyes are open. Whether or not you accept the apology and forgive is one thing; but walking right back into it is quite another. Would anything change? Perhaps; but that isn't the real issue. The real thing to understand isn't the fact that someone gets dumped via text. That's miniscule in the big scheme of things. It's the character of the person who does it that is more telling. It's the lack of respect shown to another that is more telling. It's the fact that people deserve more than to be treated with disrepect; regardless of what your name is.
When living life the most important thing that people will remember about you is your character. What does it reveal to others? Of course everyone makes mistakes. There is no way around this. The thing is when you do make mistakes; what do you do about it? That- right there in and of itself is what will be shown more than anything about who you are. If you want people to think different of you then perhaps behaving like it would be a nice start.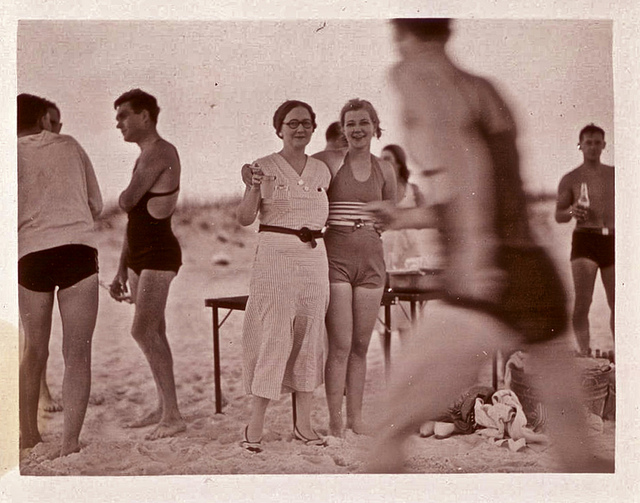 While society appears to be progressing in some ways; others are still as oppressive and objectifying as they always have been.  There has been a lot of buzz today about the dating 'tips' for women in 1938.  The first I found was in msn and everywhere else; as if we need more things for women to and do not do. Isn't laundry, working, taking of the kids, looking beautiful everywhere she goes, managing the finances and working out enough? I guess not? We need a good reminder of what the proper dating tips were in case we forgot or are are out of line with our behavior. In case we are unable to get a date these apparently are good reminders. Never mind the fact that they are all directed toward women and what women should do. Never mind the fact that through numerous searches how men should treat women isn't examined. Interesting.
How was dating in 1938? Well; my best guess is better than today. If I did know from first hand experience I would look beyond fabulous for my age!  Today there are more options and the click of a button allows men to just skip you like the car driving by. Yes of course women do the same so it's fair game but the point is the behavior of society has changed. Let's examine what the appropriate behaviors for women were in the 1930's.
Ladies listen up as you may learn something; or just get irritated but I digress:
1-Careless women never appeal to gentlemen. Who wants to take that home to mom? Careless I'm sure in the 1930's may have meant something different; although there are I'm sure some similarities that can be useful. It's only in the movies that the loose prostitute ends up with the wealthy man.
2- If you need a brassiere, wear one. Let's just go with the fact you do. Done. Make it simple for the rest of the women out there and just wear one; or stay home.
3-Don't be sentimental." Don't get him to be emotional and talk about his feelings.  Men don't like tears; especially in public. Yes it's just whatever the man wants because after all; he has to decide whether or not he likes you. Never mind the fact that you have a brain and the options to choose if he is worthy of you right? There is more about the history of where this not talking about stuff came from but that is for another time.
4- Don't be familiar with your escort. Open affection is in bad taste. Interesting that men are considered the escort but when Heidi Fliess did it the tables were turned. Bottom line is don't touch him. Forget those love languages folks! That means nothing. What if he touches you? Do you ignore him? Oh never mind we are only focused on what the woman are to do; how soon I forget.
5- Please and flatter your date by talking about the things he wants to talk about. In other words you are there for the purpose of him and his needs. You ladies have none. You are only there to be what he needs because you have no other purpose.  And then we wonder why the feminist movement is so strong? We can see that Jesus never treated women in such this manner to require this type of treatment. How far have we come that women are to just be interested in the existence of men; and possibly their football game?
6- Don't be familiar with the headwaiter talking about the fun you had with someone else another time. Men desire, deserve your entire attention. Oh by the way; taking a lady to Hooters and then checking out the waitresses isn't cool either. Your date desires and deserves your attention. Just saying.
7- Don't drink too much, as a man expects you to keep your dignity all evening.  Drinking may make some women clever, but most get silly. Ladies don't behave like this as they are a bit wiser than this. Wouldn't this tie in to #1 with being careless? Perhaps it should be written gents don't get your lady drunk in order to pull a fast one on her? How about that for a tip? Maybe?
8- Don't sit in awkward positions and never look bored. Be alert and if you must chew gum, (not advised) do it silently, mouth closed. Then don't talk about football! Pick something like hockey or Duke basketball; or firearms. This just reminds me of the some woman pandering the Dos Equis man just because he thinks he is interesting!  Never mind the fact that God created women with a brain right and that it takes brains to pretend to be interested. Women have been doing this for far too long without men even noticing; isn't the ceiling beige after all?
9- Don't talk while dancing. Ladies again; be quiet. What's great though is the fact that men knew how to dance. How many today can say that? Yes I know you west coast swingers out there do but you are a small part of the population. Perhaps that should be a dating tip for men in current time: learn to dance. Put away the PS3 and learn some moves. Ladies; recognize he may want you silent because he has to concentrate on his steps. That counts for more than you realize!
10 – The last straw is to pass out from too much liquor. Chances are your date will never call you again. Well; after having to go through all that who would care if he called or not? It's a lot of work just to sit there and be quiet!
As we can see that through the years there has been much expected of women. While some things on the list perhaps may be funny and outdated; when you look beyond the list it's the expectation of women to be objectified and spend a lot of time and effort to be so. It still continues today it just costs women more than it used to.  Now it's not to say all men do this to women as we know this isn't true although it's true of society in general.
Until we get above it all it will continue. My best bet is that you would rather be a woman with a good heart than one who may talk while dancing. My best bet men is that you would rather have a good woman who has a life and doesn't live to listen to you just say your day was 'fine'- every day. My best bet is that when both men and women have their hearts in the right place that the rules of behaviors won't need to be written. The question is: will this ever happen?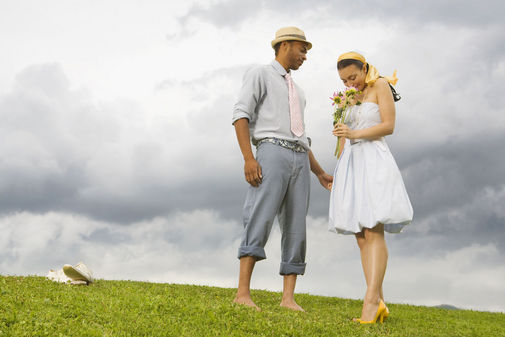 It's ironic that both men and woman say the same thing about each other: 'We just don't understand them". This would make sense since men are not women and women are not men. Sure there are some that say men are from Mars and women from Venus but that would mean you would have to actually go there to know this; and how many men would take that journey? In order to get it you have to get beyond yourself and of course we go go back to where it all started with Adam and Eve; but that isn't the examination of this article today. Perhaps another time.
To help men understand women and grasp where the oh so crazy ideas are coming from it will be explained in simple terms; not because men are stupid but because simplicity is best. Here we go:
1- Women take what men say literally. What does this mean? Well gents; if you tell a woman something like, 'you are beautiful' or 'I will be home in about an hour' that is what she is working with. If you say something like, 'We'll go on a road trip to Austin. You will love it' the woman will listen to the action of what you said. If you tell her you are going to call then guess that? She is expecting a phone call.  Otherwise; why would you say it? Note if you are a liar then we need not say more but again- who would tell the truth about that?
If you compliment her, then kiss her at the end of the date and tell her you will call her- and then don't you have just done more damage than you know. It's a triple whammie! Not only now are you the liar, but why would you kiss her if you didn't like and why would you say you would call if you have no intention of doing so? See guys; what this does is mess it up for the next guy who comes along.
Just as I wrote to woman that their behavior sets the stage for those who follow and the same thing here. If you don't follow through and give her the wrong impression then she is going to wonder what is so wrong with her and what she did wrong. Now she may have done nothing wrong which is why you complimented her, kissed her and said you would call but that isn't it. She is going to internalize that she did something wrong because you didn't follow up. She is left not knowing a single thing other than it was a big farce. Then when the next man comes along; she most likely hasn't forgotten what the last one did and now with you she is more on guard than she ever was. By you being honest you will save yourself, the men who come after you; and he ladies as well.
You may ask 'how do I get around saying I will call when I know I won't'? Well; don't tell her that you will. Just tell her you had a nice time and leave it at that. This way; when she calls her girl friends a couple days later to complain that 'you didn't call' her friends will ask 'did he say he would call?' and she can say 'No. He didn't.'  While she may be hurt at least the truth would be out instead of her having the statement 'he said he would call' and 'he just proved he's a liar' to work with.
I know and have heard from some men that honesty is not the best policy here but let me just tell you from personal experience: I would much prefer the truth than a lie. I once went on a fabulous 3 hour lunch followed by a spontaneous movie with a man and it was awesome! Every single thing about it was better than any date in the previous 9 years and then nothing. No call, nothing. I was left not knowing anything. To have not been told he would call would have been much easier to swallow than hearing he would and not knowing why he didn't. Take it from me; women may not like the fact you don't call but at least you were honest and women can respect that. You wouldn't be a jerk you would just be a man who didn't call. Do you see the difference?
2- Compliments mean something. When a man compliments a woman it's a beautiful thing. In case you haven't noticed; women go out of their way to look good for you. Some even starve themselves or enlarge their chest just to feel better about themselves so that you guys will take note. Short skirts, high high heels, makeup; need I say more.  Yes in this instance much of it all about you. (We won't talk about how some women do it for other women in this post.) When you compliment a woman she hears it and it is affirming; but now if do nothing to follow it it then it's a big blow to her ego. Let me explain: if you go out with a woman and  tell her how beautiful she is then why wouldn't you want to go out with her? If you tell her that 'she is the perfect package' then what is the issue that you don't want to continue to go out with her? Do you see how this ties in to #1.
3- Over-complimenting is creepy. Giving a compliment is one thing but over-complimenting is something else. Sure it's nice to hear 'You are beautiful' 'I love your mind' 'I love your curves' and so on but if all you do is give compliments one after another after another after…. you will leave her wondering what is wrong with you. She also will become more reserved because you will come off as a smooth salesman who just says the right things because he thinks it's what a woman wants to hear as opposed to it being genuine. If you use compliments to get them back; that too will be a trap because she may be as smooth in that area as you are. She may give them in other ways and if you listen not only with your ears but your eyes too you will get much more.
4- Telling women you enjoy touching them in a first date is scary. If it's a first date and you are unsure what she thinks of you; don't tell her that touching her makes you feel good. You have just freaked her out! If you then couple it with 'my love language is touch' then now you are just sly. You are using The 5 Love Languages to justify getting what you want from her and that guys; does not make it ok.  What she hears is 'I get off on touching you' which is extremely uncomfortable. It also tells her that you are more interested in how 'you' feel than how she does and you are now selfish and only interested in yourself. A big red flag! Now in other situations where you already know her that can be great but on a first date she is thinking she needs to take a shower to get the filth off.
5- Talking about the type of women you date tells more than you realize. Everyone has a past. Period. There is no way around this unless you are 12; and even some out there have major stories. Talking about women you have gone out with is one thing; but if you share things like, 'oh this doctor I went out with' or 'that model I went out with had the longest legs' then guess what? Good for you! If they were so great why are you not with them now? What is your point in sharing that with a woman? If you tell her you have or do date married women- then what does that say about you? There are some things that need not be shared in the beginning as it is only intel women will use to size you up. It would be similar to the woman you are trying to impress sharing with you that her last boyfriends were billionaires. Can you compete with that? No more than she can thinks she can compete with the long model legs.   You still don't want to hear it any more than she does. Also take note that she would be focusing on the type of women as in title and looks while you would be focusing on the money factor so why bring in something unnecessary. She isn't going to want to get naked any time soon if all she is now thinking is that you want out with a model. The time is about each of you and not other people.
6- Women work within time perimeters. This is a tricky one and if you get this it will help you much. Women work within time constructs and most men don't get that. Yes most women don't get that men have no time line which yes is an issue for everyone. You see; women do work within time frames and for great reasons. It's typically women who manage the household, make 80% of the decisions, go to work, take care of the kids; and pick up your dry cleaning and do your laundry while making sure dinner is ready. If there were no time frame of anything what would get done? Women need time to get ready for a date with you which again; time factor. It isn't about putting you in a box but rather them having something to work with. Things need to be done in a certain time frame for women and that is because women plan more than men. It's not a negative or positive just something to help you understand why women are time focused. If you say you will be home an an hour; she is expecting you home in an hour. If you want to know what she is doing in that hour? Getting the last of her work done, running two errands, freshening up, cleaning up; and perhaps preparing dinner or something else for you. You not showing up is infuriating because she could have done the other '3' errands she needed to but didn't, continued working on another project; and prepared something different than what she originally had planned based upon the time you gave her. Do you see it now?
7- Titles and labels aren't traps. When a woman asks what is it that you are doing together and what it 'is' it doesn't mean she is trying to trap you. It's that she just wants to know. Some men think that women are so devious in their thinking that women just spend all day thinking of how they can trap a man they like into giving them a title. Why would women do that? Don't say because they are crazy because women could say the same thing! Women work more on definites than abstracts. Giving something a definition doesn't mean your life is over! If you think this then perhaps you should not be going out with her, or her, or her; or her or her. If you drive a car you have no issue calling it that so if you are dating a woman who happens to ask if you are just dating or exclusive don't freak out. If you happen to date the ones that do then possibly it's something to look into.  She doesn't want to marry you tomorrow.  You see; gone are the days where women 'need' a man to have an identity. You may not know it or not but women do have their own social security numbers now.  If they have identity in Christ; then rest in that too.
8- Pay attention to her body language. This is huge gents. If you start paying attention to her body language you will get it. If you ask her 'honey what's wrong' and she says nothing but won't look at you- it's a clue. 93% of communication daily is nonverbal. The  cues and clues are all there but if you are too busy focusing on the fact she talks too much you will miss everything she is telling you; and what a shame that would be! If you want a woman who doesn't talk- then go date a man. Who knows what you may be missing out on by not listening and paying attention to the woman you are with?? If you move in close to her on a first date and she moves away it's a clue. Don't go in closer as you will only then push her further away and your second date will never happen; and your first is ending sooner than you may want. Women need time to absorb information. This is why women window shop every store of the mall; they gather information. You men; can walk in and buy and be done in 30 seconds. If you meet a woman and try it your way going in for the kill so quick you will end up dead in the water! Women are always communicating and if you pay attention to it you will get much more than you realize. I challenge you to start today!
9- Her wanting to be married doesn't mean to you. There are always things women should not talk about; so says men and 'some' dating coaches. Here is the deal on this one though: just because a woman wants to be married some day really doesn't have anything to do with you. If you tell her you want a sports car should she run because she is going to think that you are expecting it from her? When you hear what she wants understand that it may or may not have anything to do with you. If you take the time to listen to the rest of what she has to say instead of freaking out; you will know much more and not have to order that extra scotch. Yes it's clear that most men hear marriage and they run because they can't imagine themselves married or that they aren't sure if they would be in position to marry her- and on it goes but relax. She may not even be into you and you into her so why run after 30 seconds?
10- Her wanting kids doesn't mean with you. This is a tricky one because like with marriage; it's been said that this is also something else that women shouldn't talk about. Now that is fine and I'm not saying to start the first date with 'I want to be married and have kids- with you' as that is a big red flag. On the other hand; knowing this information can be to your advantage. You may not want kids but perhaps your best friend does. Set her up with your best friend and when they get married you will be the hero! Again; just because a woman wants kids means nothing more than this. She has no idea if you would be that person any more than you know if you would want to be that person! Now yes there are those women who at first thought believe you are their savior; and you need to be on watch for this and ask yourself why you are in that position in the first place.
11- Sex means something to women. Sex may just mean sex to men but for women it's different. Yes we all know that women create intimacy through talking (clue guys) and men through sex. Here is the thing: if you try to skip talking to her and move straight to sex without passing go, collecting 200 or anything else you are not getting it. Every time you have sex with a woman you are creating new soul ties. Those soul ties last and getting yourself entangled with a bunch of women sexually is a big trap. Sure it may just be 'sex' for you but for those women there is the emotional connection and when they have sex it does have much meaning behind it. If you are not interested in that woman in an intimate way; don't use her for sex because you can. She doesn't deserve it any more than you do a woman freaking out after the fact. Best to protect yourself and not engage. Sure that can be a challenge but there are consequences and what man wants their rabbit boiled?
11- It isn't always about you. I know this is tough. After all you are a man. You are a good man. You are attractive. You are intelligent. You are a handyman at home. You are a high income earner. You are strong.   You are charming. You are witty. Why wouldn't it be about you? Well; it just isn't. There are times in life when it is not about you and has nothing to do with you. It took me a long time to get that revelation that it wasn't about me. It was huge! Once I realized that when a man says he will call and doesn't that it wasn't about me. I couldn't figure that out; just being honest. Once it hit me that I was wasting time allowing myself to be hurt over some man that didn't want to interact with me for a reason I didn't know I was free! Him not calling had nothing to do with me- but I was sure it had 'everything' to do with me! In your case; it isn't always about you either. Internalizing it and making it about you just keeps you the center of everything. To this I say; get over yourself! You will be glad you did. Now I know many of you reading this may argue and say 'it is about me. I'm always in the doghouse' and bla bla but then ask yourself what it is that you are doing to get and keep you there. I can't answer that one in specifics as it could be a myriad of things. Not only this; with women you really have no idea so you have to be the investigator and solve that one for you.
So you see; there is a lot to understand. Women aren't as complicated as you may think. It's just that it takes time to get to know them and put down the remote or turn off the motorcycle to pay more attention and you will get there. The hope is that this insight will help maneuver through your dating and mating world to get the results that you are looking for. My best guess is that you want less drama, a healthy or healthier relationship with more sex; and a life with happiness. You can get it all if you just open your eyes a little more.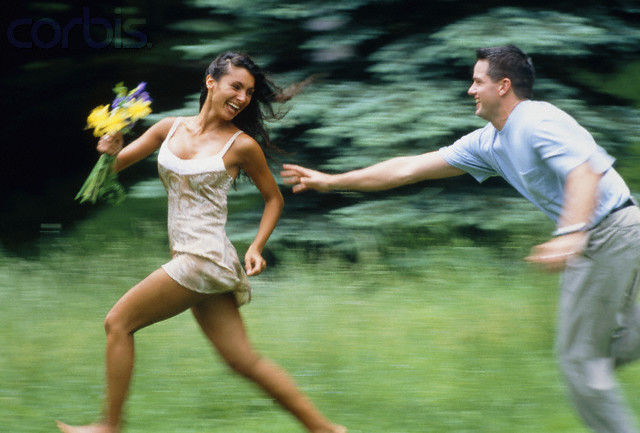 In a flip flipped world it's hard to know what to do. The feminist movement really messed things up for both ladies and gents. How you ask? Well; the role reversal keeps everyone confused.
It used to be that a man asked a woman out. He made the plans and picked her up to take her on the date. He greeted her at the door with flowers, opened the car door; and paid for the date.  He was a gentleman. He may or may not go in for the kiss at the end of the night; but that was left to anticipation. Now; that isn't what occurs.
Instead; we are left with women making the charge and doing it all. Hail to the women out there! Who needs to wait for a man to ask her out? What woman has the time? 'Ain't nobody got time for that'! Why let a man open the car door? Can't he see how large her biceps and triceps are? Can't he just sit there and let her show off her billfold and pay too? I am woman- hear me roar!
It's an interesting thing really because if men treated women like the men they behave like we would have a revolution! Most women certainly would not like it and the level of harassment cases would skyrocket.  Not only this; most men don't want to date men. Sure there are those that do but you get where I am going with this.
So this leads me to ask: what is up with the chase? What is up with men enjoying being men and women being men?
I used to think that feminism was the issue; however, it's much much deeper than this. I will share more once I am finished with my research; it's taking a while.
Today; it's the question of the chase. Why ladies; not let the man chase?  Why not enjoy it? It seems that with the women doing all the chasing that men are left with nothing to do.  Women text, call, make the plans, put out on the first or third date- and then complain he won't commit. Commit to what? A smothering woman who doesn't understand him?  Can you imagine all the deer and elk just walking up to the hunters and bowing their heads to them to be shot with that oh so beautiful .35 Whelen bolt action? Of course not right?  They run so they can get caught!  Men go out and do what they do- hunt! Ladies it's time for you to get caught. How about that?
If you meet that wonderful man who says he will call; give him a chance. Give him the chance to follow through. Give him the chance to be the man. Give him the chance to realize that you are different. Give him the chance to hunt. Give him the chance to show you that he is interested. Give him the chance to show you he is the man.
You don't want to blow it by taking control. You don't want to blow it by being over aggressive. You don't want to blow it by taking away the time he needs to get in place to call you. Why overpower him to get what you want when you want it?
Is it difficult? Of course it is! There is the anticipation of knowing that just yesterday you have had an absolutely fantastic time with him. It was beyond what you ever had planned for your day.  You loved how good he smelled, the twinkle in his eye; and how he studied you like a beautiful painting. You loved every minute of it. You loved how inspiring the conversation was; his boyish charm was and just how his personality shines like nothing you have ever seen before.  You loved how he brushed his leg against yours at the table with a soft smile. You loved how he took your hand in his during the movie and how awesome it made you feel. All of it was just perfect.
He ended the night with a kiss that was just right. He said he would call. That was it. He said he would call.
Why not believe him? Why not just from that point on go about your life and know that you are who you are and that you are ok with it.  You are a good woman with value. Remember; your identity is not made up of a man that you just met. Your identity is much more than this. Those of who you have identity in Christ relish in that. You are a child of the most high God and that is all you need.
Be patient. He will call. He will. Sometimes it may take longer than you like; but remember it isn't always about you. Give him a chance. You will be glad you did.  And if for some reason he doesn't call; you still have your identity and know who you are. See; no matter of how good of a woman you are you will never be enough for a man who is not ready.  You are still fabulous.  You are the winner either way.  Final thoughts ladies: don't be a woman who needs a man; be a woman a man needs. You both will be glad you are!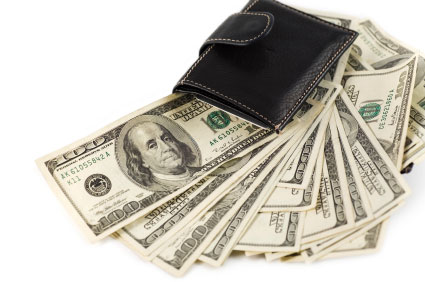 I recently came across the story of a woman named Kathy who is single and was interviewed about her list requirements of the man to be in her life.
While a a list of items to find at the grocery store is one thing; an 85 item list for expectations in a man is quite another! Yes; she has 85 items listed. How many of you actually get 85 items at the grocery store each visit?
What is fascinating about this is not only the length; but the contents. In a short review of the list number 41 isn't just 41 it also has A-P with inclusions such as 'make my toes curl' which is something that may or may not make you cringe. Is that really the depths of what people are looking for? Are we really that narcissistic of a society? Should it be any wonder why so many are single and alone?
There are a few things about the list ladies I want to encourage you to think about. Men- if you have the list too then reflect on this.
Before I get to that let me share. Years ago I had a list. I used to listen to Pastor Jesse Duplantis and in one of his sermons he talked about making your petitions known to the Lord. If you tell the Lord that you just 'want a man' then you may get one; however, does he work? Does he have a vehicle? How about hair?  Make my petitions known. Hmm……Interesting I thought.
I went to town! Oh boy did I have my list; three columns 3 pages and both sides. I wasn't going to miss a thing. I wanted to make sure that the Lord knew everything "I" wanted. The list was well kept in a journal filled with writings and I never looked back. I never thought much about it until; someone else spoke something to be very profound that changed my life.
In 2006 I started attending a home Bible study and still had my list. I was on my way to getting something that only God could provide because there was no man on earth that could ever live up to my selfish desires; none. I had and have faith that God would provide so that wasn't the issue at all. I had my list. I was all about me. I was all about finding the right man that was just created to be all about me.
At Bible study one evening I spoke about the list. My Bible teacher spoke very bluntly to me and revealed so much about my list that forever changed my thinking and the reality by which I lived.  It went something like this: 'So let me understand. You created a list of what you think you want and you were so bold to share with God all your 'requirements' of man. I'm sure you didn't even include such things as a man after God's heart, a godly father, a man with integrity; and character that would leave a life lasting legacy. You may want to think about just how selfish you have been and go and repent of thinking you know more than God what is best for you. You may want to think all the while what you think you want today; will probably change tomorrow. What then will you do when your list becomes outdated? You then will be complaining that it wasn't really what you wanted and then try to blame God. Seeking the desires of your mind is not the same as seeking the desires of your heart. You may not want to be so bold to slap God in the face and think that your ounce of wisdom is larger than His.' OUCH!
Needless to say; I sat in silence stunned. You see; people never spoke to me that way. Most were scared of me and he certainly was not and I so appreciated it. I never looked at how utterly selfish my entire list was.  I went home that night to take my list and rip it up; except it was gone. A dear of friend of mine who knew all about the list was with me and went through every page in that journal and it was just gone. Gone. I was elated that I didn't even have to ever see it again to say the least!
So it leads me to reflect on this: is there anything wrong with having desires? No of course not!  There are certain things that are deal breakers but most of them are related to the foundations of how I live my life.  It isn't about the selfish motives of only wanting someone who is there to 'serve you'. Where is what 'you' are offering? Most of what I had in my list was all about someone serving me. It was all about self. In listening to Kathy and learning that she has 85 items on her list; many of which are about what a man is there to do for her- where is what she is giving? Not one and this is based upon her interview stating that these were requirements of a man to be in her life.  I wonder if she is financially free, no emotional baggage, no debt, no relationship problems, nothing of any kind. Nope not at all. It's so ridiculous that people have expectations of others that they are not even able to deliver themselves. Interesting right?
If you are more focused on 'finding' someone who is only there to be what you expect him or her to be- you are missing the time that you could be spending working on yourself so when you meet that wonderful person you will be ready. You can't be self focused and truly loving at the same time. There is no time for both.  It's not a dig on Kathy or anyone else with the list; but rather a plea to get over self so that life with someone isn't missed. Life is short. Period. The minor things of receding hairline, chest size not being big enough and that person not being perfect is just part of life.  Get over it. You aren't perfect either. None of us are and most don't look like Brad Pitt or Angelina Jolie so thinking you are just all that isn't true. I say this not to be contrary but to share the reality that we all have something to improve upon.
It is the mindset and issue of the heart that is the issue. When we get so full of ourselves we overlook the things that matter the most. When we focus on hair color; we miss the heart. When we focus on status; we miss the smile. When we focus on fake; we miss the friend. When we focus on self; we end up alone.  Just ask Kathy.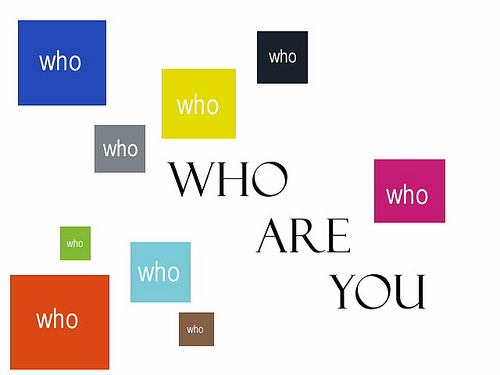 If you take the time to look around you; what do you think you think you will see? What will you hear? Perhaps it's people on their cell phones talking about how the Bachelorette Des is with Chris and not Brooks? Will you see people sitting at Starbucks with their ears filled with buds and their ipods enjoying their 'i-life'?  Even better yet is it the oh so chic ladies walking by with the coveted Christian Louboutin's just in time for fall? Or last for you guys out there is it the latest on A-Rod?
Regardless of what you do and don't see that can make all the difference? Sure people like sporting their latest fashions to be perceived as hip or cool. Sure some need to have you believe they are more successful because they drive this car or that; even though they may live in an empty apartment and live on Top Ramen.  Sure; you too may be a sucker for it all.  A sucker who falls into the trap of paying money to a company for something only to then be branded by it. Let's face it folks: does anyone really care that your purse is Prada? Does anyone care that you drive you drive a 1967 Shelby Mustang GT500 or McLaren F1? Of course not!  (Regardless of how utterly awesome they are!)
This leads me to ask: what is branding you? And furthermore why?
Lately the trend in and out of business is the push for branding, branding; and yes more branding. 'You need to brand yourself' the business experts say. 'You need to have more products' others will say because of course if you are not out there just pushing this product or that face then you are just forgotten. It's tiring isn't it? Of course it is because you can't not keep up and be relevant.  Will it end or is this just what society is? If you check out the Bible it's pretty clear where we are. '1But realize this, that in the last days difficult times will come. 2For men will be lovers of self, lovers of money, boastful, arrogant, revilers, disobedient to parents, ungrateful, unholy, 3unloving, irreconcilable, malicious gossips, without self-control, brutal, haters of good,…' (2TIm 3:2)
Now don't get me wrong; business is great! I'm a capitalist and love America! This isn't as much about doing business as is it where the focus is. Are you one that is only interesting in the branding of yourself in terms of 'you' or are you more interested in the brand of your character? You see there is quite a difference and understanding that may change your perception of a few things. The brand of your character will outlast and outshine anything else and if you are not aware or paying attention to your 'brand' in that way you may miss the mark. No one will remember that you wore last year's Prada's or the car you drove 5 years ago. They will remember; however, your character.
Take for example A-Rod. I remember when he played for Seattle and just how awesome he was!  I remember when he came to the Texas Rangers and the incredible salary he was paid. Congrats right! While you may not like what he was paid that is irrelevant. The perception was that he was worth it. His brand was amazing! I love stories of haters where they just don't agree with someone being paid yet if it that person were offered that salary I'm sure it would be quite a different story. Just saying.
Today; however, A-Rod's has quite another story. What is his brand? How would you describe it? Tainted? Corrupt? Faulty? All of the above? It isn't about judgment of him as we do still live in a society where innocent until proven guilty.
The point here is that he has branded himself. He was branded as one of the best and most certainly was and is. He was the youngest player ever to hit 500 home runs and surpassed Sami Sosa records too. He is gifted without a doubt. The question though what now has branded him? What is it about his brand that you are going to remember?
It's no different than any of us. It's so easy to get caught up in all the rage of technology and think it's needed in order to be current. It's easy to fall into the fashion traps and waste money on things of no value only to be branded by a label.
What isn't so easy though is to reflect on it the brand of your character. Your brand of integrity, reputation; and poise. Perhaps if more people thought about what they truly are pushing instead of themselves for personal gain we wouldn't be the billboards that we are allowing ourselves to be and sold for the lowest cost.
We have a problem in America. Yes we already know the economy is terrible and that the media loves to twist the truth. We know that the IRS attacks on conservatives and Tea Party are a real thing; and we know that the divorce rate is on the increase. This is all true. Sad; but true. The real issue is much deeper than that.  It's what is beneath that is the real issue.
The heart of people is the true crisis here. Sure hurt people hurt people but what's more concerning is that it's not a concern.  People lie and thinking nothing of it.   Not only this; they have no problems doing it right to your face! This begs the question: how did we get here? How did we come to a place where being liars and cheaters is just part of life, business and marriage? Have we no shame? Have we no respect for anyone or even ourselves? Apparently not!
If you step back and look at the times we are in the signs are there. More than ever before people are becoming more in love with themselves, boastful, cheaters; liars and greedy.  What's it for? More self gain at the cost of others? One is a lonely number my friend.
While it may be the norm in the ways of the world doesn't mean anything more than this. It doesn't mean that you have to behave in such a manner. What other people choose to do should have no impact on you yet for some this has changed. It's more of the 'steal, lie and cheat you before you can do it to me' mentality and it's just wrong.
If you think nothing of the people of whom you commit to, do business with; or want to date or marry because you are more interested in yourself then should it be any wonder if it doesn't go the way you want? If you live a life of no integrity because you are too busy promoting yourself than respecting others perhaps your heart needs an enema.
Just a week ago someone lied straight to my face and it I knew from the moment the words were spoken that everything was a lie. I almost interrupted to save the person from lying to me but thought otherwise. Today; my thoughts were confirmed. While yes it's not cool I was lied to; the more important issue is the character of this person. It's all there and revealed and I see it clearly. No longer will there be any business, relationship, engagement of conversation; or any desire for any interaction. It's done. There is nothing left to say.
The ironic thing about the entire situation is how many people may just think, 'let it go, no harm no foul' and that thought process just leads to an acceptance that that is the normal behavior of people. And that- is the largest issue of all.
Until we get real with ourselves and deal with the real heart issues things won't get better. Until we recognize that our behaviors are a reflection of our hearts we won't get it. Until we stop to think of the impact of legacy our actions have we won't get it. Until we stop to pay attention to what and who we have become as individuals and as a society we are headed for trouble. It's all being evidenced in daily interactions everywhere. Don't believe me then check out Ashley Madison who helps married people have affairs, check out the latest reports about Benghazi or the latest about A-Rod and his wrecked baseball career. It's all issues of the heart to cheat, lie and steal. It's the issues of the heart so I ask: where is your heart?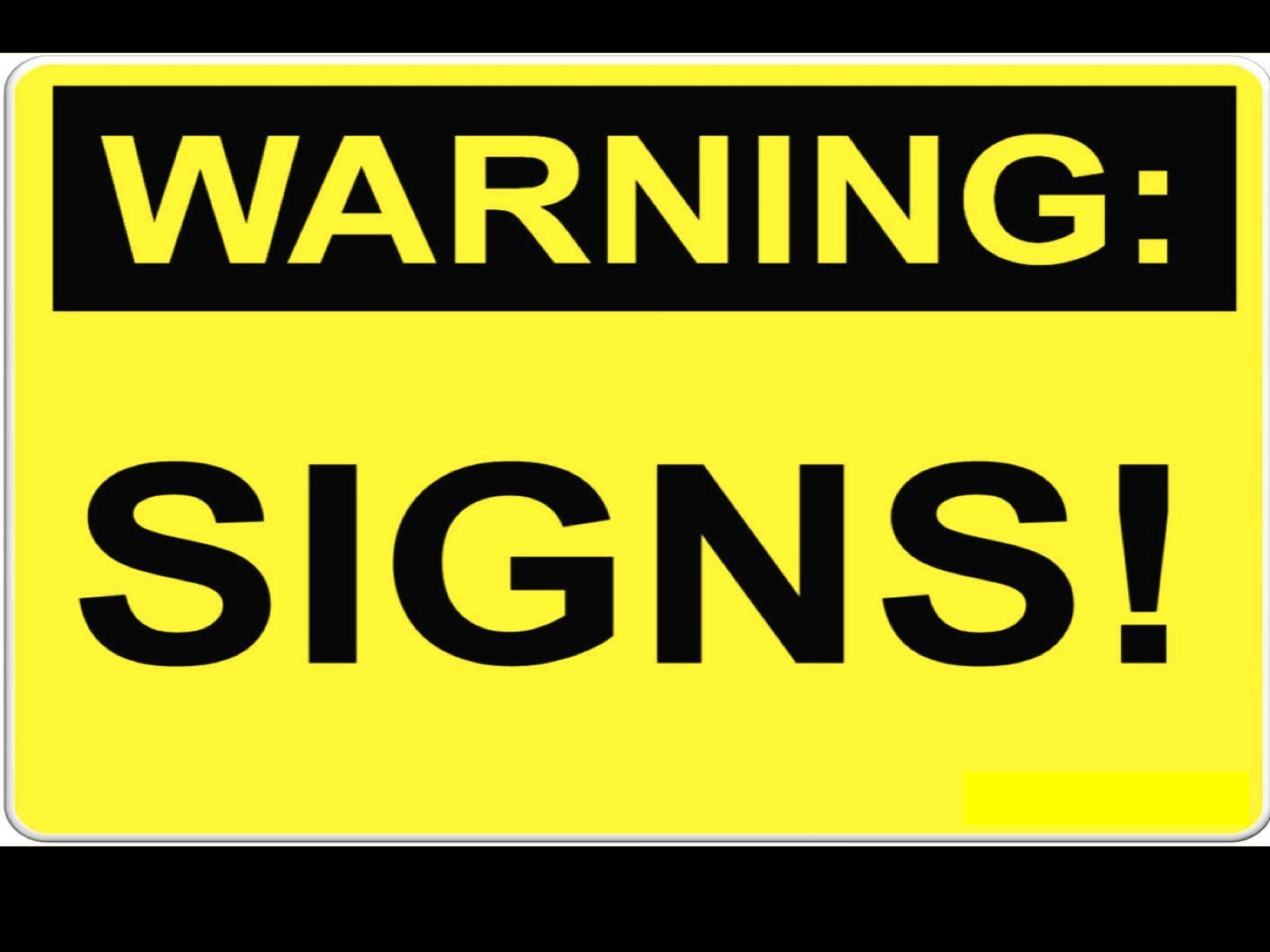 Dating is supposed to be fun. It's supposed to be exciting. It should be filled with great exploration of another person. That is what it 'should' be.
The rules have changed. In fact; there are none. It's quite dangerous for women if they are not careful. There are those so called progressive woman who advocate having sex on the first date; never mind the health risk to women physically and spiritually. There are those that believe the best way to get a man is to be a witch with a 'B'. Then there are those who just say do anything for a man because if you don't you will end up old and lonely.  Terrible that that is what is put out there for the so called benefit of women.
This is a call to women to stand up! Stand up for women and the essence of who we are! It doesn't matter if you live in Dallas, Detroit or Denver; so long as women are divided on all the dating issues it will only leave us in danger and men more confused than ever.  How does it put women in danger? It's quite simple. Below are several ways that women put themselves in danger in dating relationships:
1-      Sex by the 3rd date. That is dangerous because well; the obvious you are giving your soul to someone you don't even know. The additional thing is that when you do this and the relationship is dead by date 4; it sets a standard for men that that is what is expected in the next relationship. Every behavior in dating that a woman exhibits sets the standard for men so should it be any wonder why so many men are just flat out mental disasters?
2-      Text boundaries. If you allow him to text you 'late night' then what does that mean? He can do it and guess what- he will. Sure you may think it's so nice that he is thinking of you at that time- but in reality he is thinking of himself. If he were really thinking of you at 2am he would probably show you and he some self-respect and wait until the morning recognizing that you probably are sleeping. He wouldn't want to disturb you because he respects you. Now of course if you are already in an exclusive relationship and you have different boundaries this is entirely different. This point is for those who are newly dating someone.
3-      If he expects you to drive to him on the 1st or 2nd time you meet that's a huge red sign. First of all- the question is why on earth would you do it? Don't you deserve a man to get in his car and meet you at least half way? You are putting yourself in harm's way by driving to the home of a stranger! Sure he may be what you perceive to be a nice guy but so was Scott Peterson and the Craig's List Killer.  While you may carry a firearm that doesn't mean anything and if you end up using it then you just put yourself in a more precarious situation.
4-      If he gets mad that you won't drive to see him run! Run fast!  If a man just enters your life and has such an expectation that he can call you and you drop everything to go see him he is crazy and you are just dumb if you do it. If he is mad about that it shows his character and you are too good of a woman to have to chase a man who shows such utter disrespect toward you. That is a clue and you don't even have to leave home to get it.  Ask yourself if you were talking to your sister or best friend would you ever in a million years agree with her driving to the home of some man she just met all alone? Probably not!
5-      If he interrupts you consistently. When meeting someone that you are starting to date the signs are everywhere. You have to be on guard and remove the emotional excitement to look at the reality. If you are in conversation and are unable to complete a sentence because he can't let you- then it's time to hang up. How could you ever communicate about larger issues in the relationship if you can't even have a get-to-know-you conversation? The control factor enters scene left.
6-      The touch factor. If you meet him for the first time and 10 minutes into it he is trying to hold your hand and put his arm around you; or touch your leg- open your eyes to this. Now sure this may vary based upon the length of time you have been in conversation with him but let's say you have had one or two conversations and have exchanged a few texts. The emotional connection of someone you don't know gets in the way; but you have to ask how real it is. Just because you had a few great conversations doesn't mean you know someone. You only know someone when you spend time with that person. If you feel uncomfortable then say so. If he doesn't get it- then there is your answer.
7-      If he raises your voice at you then run. Sure some women will disregard it as 'passion' but really ladies let's take it for what it is. Is that what you are really going to try to sell yourself to believe? A man should never raise his voice at you and if he does in the beginning what will he do beyond that?
8-      If he calls you any name that is not nice then run. The fact that he believes it would be ok to call a woman any name tells it all. If you stay and put up with it reveals even more about you. You are better than someone you don't even know calling you something that is not uplifting.
9-      If he dates married women and tells you- it should be obvious but I must say. Sure the woman may be in the middle of a divorce but guess what? She still is married. Now some of you may argue this as divorces take a long time but here is the thing. That man is telling you that he is dating someone else in addition to you. No wonder why you are only getting a walk around a park and not a 'proper date' right? Open your eyes ladies! It's not to say dinner and opera every date but it is to say that if you are a number in the mix. Are you better than a number? Of course you are! Now you may say it's a good thing he told you he was dating other women and sure; but then the question to 'why' he would tell you in the very beginning along with the type of women he goes out with.  Again; just run as character is revealed. You may be one who is dating other men which is fine; but do you share that one the first date when it's about getting to know the man you are with at that moment? Or do you have little more prudence than that?
10-   If he tells you, 'It makes me feel good to touch you' on the first time you meet-run. Just please run. It's creepy that someone you don't know would tell you that and you need to be asking if he is just hard up and is just using you to get his jollies. When you don't know him and he tells you this he is obviously thinking more about how he feels than how utterly uncomfortable you may feel. It's a sign ladies.  Is he desiring to touch you for you because you are the women he desires as the person you are or what he can get from you? These are two separate things and you need to get that! Be watchful of those who just like to say 'I'm affectionate. Touch is my love language.' Sure. Boundaries for just meeting you is mine. How do you like me now?  A real man will like and respect you more and not just say he can't date you because you won't hold his hand after 10 minutes of meeting.
11-   If he tells you he is tired of dating bimbos. Well; what man wouldn't be? The fact that that he dates them is one thing; and the fact he told you is another.  So what does that mean for you? Is it a sales pitch that you are the 'nice' one? Sure you may get all excited that he now thinks you are better than the bimbos which of course you are; but if he doesn't treat you like it then he needs to take a class! If all he gets are bimbos; that is a clue he is not ready for the good woman that you are. It's not that he doesn't deserve it but you have to be a nice guy to get the nice girl. Bimbos are treated different than nice women and we all know that.
12-   If he thinks you are rigid because you don't play his game so what? The real man out there for you will see it as self respect. It won't even come up.  Any man that gets ticked is just mad because you are not the bimbo he is used to. Not only this he is not used to being told no. Run from this man as he would only use the passive aggressive behavior to try to 1) make you feel guilty about not being easy or playing his game, 2) doubt yourself, 3) get you to give in.  It's a trap ladies. Stand up for what you believe and if some guy you don't know thinks you are rigid so what? You are who you are and you have no need to apologize for it! You have nothing to prove to some man who wouldn't even be able to grasp your value in the first place.  If he tells you that you think you are better then he is that it is not your problem. You are not responsible for how anyone feels. No one can 'make' you feel a certain way. How you feel is your choice.  You are a good woman and you don't need to lower your standards to make some man you don't know feel better about himself. It's not worth the loss of your self-worth.
13-   If he tells you there are other women who want him and who are ready to come over to his house when you don't do what he wants- then run. It's a ploy to tell you this because you shattered his ego. The other thing to realize is the fact that he would stoop so low to try to trap you into doing something you don't want is a clear sign of manipulation. Do not be manipulated by a man who uses other women to try to get you. You do not deserve that and women if you are that woman being used- open your eyes.
14- If he tells you he has no problems getting women then run. Who brags about that? Men who get women don't need to and the fact that you are a woman and he tells you that is a sign that what- you have to compete to be better than the others? Why on earth would you do that? A good man will see your value and chase you! He would never dream of using other women whether real or not to play mind games. Real men are good men. Any man that brags about getting women gets girls and not women. There is a difference and you females out there need to decide which you are!
We women need to stand united on this. So long as we are not standing up as women together it will only cause more problems for future women. Your behavior has impact and when you let men treat you less then how you should be and it doesn't work out; then they think they can continue to pattern and well- then can. Until you are the one strong enough to stand up and say, " I don't have sex outside of marriage, I don't drive to strange men's houses, I am not a number; and I have integrity' you will get less then what you should. There is nothing wrong with having standards and I know that isn't a popular teaching these days but so what?
If you want a nice man for the rest of your life then be the nice woman. Respect yourself first and the men out there will too.  Now please understand that this isn't a bash men session as I love men. I love everything about them; minus foot funk but you get the idea. Women are just as guilty as men in the dating world and it only leaves single people heart -broken, confused; and untrusting. We as women can stop the cycle and in the end; not only help ourselves but also men too.
I challenge you today to look inward and make a list of what you deserve in your next relationship. Then make a list of things you have done and accepted to this point. Compare the two. While there may be stark differences forgive yourself for being dumb and stand up with a smile. We have all been there.  If you are not getting what you are worth then it's up to you to stop the madness in your life. Only you can make the change and my prayer for you dear beautiful  is that today is the day that you will!