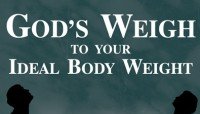 Gaining weight isn't hard for most people. In some ways it reminds me of a rash that just gets bigger and spreads to places you can't see. Or perhaps that was just my experience.
When it comes to fat, forgiveness and weight loss people get confused and with real reason. What's of interest though is that the Bible is very clear about how to live at your ideal weight. Once I grasped that; my life changed! Of course we know the Bible has information about how to live but the health factor was one I missed. Apparently I didn't see the words pasta or chocolate cake in Proverbs 32 but I digress. (some of you got that) I'll be ok with being that Proverbs 31 woman either way!
And so it went where I made it about weight when in reality it wasn't; even though I didn't even know how much I weighed I just knew it was a lot more than when I lived in Denver. And I knew I didn't like it. It wasn't until I read the Book 'God's Weigh to Your Ideal Body Weight' by Michael Scott Lowery that I got it. I always knew that weight issues weren't the issue but rather a symptoms; but what was the issue? You can check out his book here: http://www.godsweighministry.com
This book I must say has been my favorite book in recent years along with one by David Powlison; outside of the Bible of course. His points are right on with the issues with people, the church; and society. Each one of us are accountable and just because there are 55 restaurants across the street doesn't mean anything more than that!
If you are struggling with your weight forgive yourself. I will say this is the first place you must must must start. Forgiveness is the greatest weight loss and cheapest face lift without a doubt!
Today on "Living in Forgiveness" I am actually interviewing Michael Scott Lowery. I am excited because the book is great and it opened my eyes. I'm sure it will yours too. Join me at 2/3pm CST on the UANetwork. If you are in Dallas it's channels 27 & 47.2. NY & NJ channels 18 & 49.1 You can also stream it live at www.uanetwork.tv. Either way just take the time to watch and get fed on something that will bring health and wellness to your body and soul.