It's time to get ready for bikini season; and most hit the gym. Actually; more people join gyms in March than other month although starting now is a great time. The best way to lose weight is to forgive. After all forgiveness is the greatest weight loss and cheapest face lift.
I didn't really know just how much extra weight I was carrying with me; all those pounds of resentment, bitterness, anger, and you probably don't either. If you have back pain or arthritis it has an impact. Brittle bones; yep that's unforgiveness tied to the bitterness. You see; when unforgiveness is released everything that is tied to it is too. And what does that mean? Weight loss!
What's fascinating isn't just the internal clutter tied to forgiveness; but rather the number of  people on medications for mental health issues. Did you know that 70% of Americans are some form of medication?  (http://www.drugfree.org/join-together/almost-70-percent-of-americans-take-at-least-one-prescription-medication-study-finds)  When we examine this fact alone; it tells us that we have a larger issue at hand. You see; when you cover something up with medication you are not actually dealing with the issue at hand- the issue is still there. Your depression will be released! Your joy can be restored and the fog removed. Forgiveness will bring your joy back in the name of Jesus. Not only this; the added weight from the side effects of the medication are just added pounds no one needs.  (And no I am not saying drop all your medication- talk to Jesus about that!)  Oh- and when you forgive your relationship with Jesus changes which of course is the best part- and that alone is freedom! And if you have ever noticed how free people can jump and run; and skip and smile- look around. You will see it. And that is yours for the taking!
When we get to the root issue and actually look at what it is in full detail then we have something to work with. If the issue is within; which most of the time it is because how can it not be. What is inside is reflected outward. It's time to get real and get with the One who is the Healer, the Redeemer, The Miracle Worker; and stop running.  Is it an issue of stress? Hypertension, Arthritis, Resentment, Bitterness, Fear: of change, letting go, moving forward, living, failure, success, abandonment, rejection, you aren't enough; Panic, anger, divorce, marriage, no children, too many children- or combination of a few? All of this and more will complicate your life and steal years from it. No amount of cover up can truly bring forth a fountain of life. It just can't!
When you get to the place of being sick and tired of being sick and tired your life will change. I had absolutely no idea what internally was growing and breeding in the depths of who I am. None. I had absolutely no clue how to truly forgive. None. Church told me to forgive but not how so I was faced with doing something I really had never done before. I did it. And I had no clue just how much every single aspect of my life would change; and how much weight I would lose. None.
And so if you are sick and tired of being sick and tired you are in the best place you could ever be in. This means you are ready for change. You are ready to let go and move on. You are ready to drop the pounds and start living your life; the real life God intended from the very beginning. You are ready to take back the power that you gave to others by saying no more poison are you going to accept.
It's time for you now to experience weight loss internally and externally once and for all and for all the days of the rest of your life. That is what happens when you forgive. Going through the full process of forgiveness is literally a death; which would make sense because God's Word tells us in order to live for Him we must die to self and that's exactly what happens. You are no longer who you were. You cannot be!
If you want to experience true, genuine weight loss with no artificial ingredients, needles or weight gaining side effects then forgive. Go before the Father and share with Him everything;  go find that mountain top. Let Him carry you while your transformation takes place; and the pounds are released. Let Him be the One who does a new thing in you so that you can be lighter, more filled with Him; and live your real life experiencing God in ways you never could before. Do it today as the season for the new you is waiting.
For more about forgiveness and freedom in Christ watch 'Living in Forgiveness' weeknights on the UANetwork.
To have Julie speak at your church or business visit www.julieblair.com
It's incredible to live in a country with people who suffer from emotional and mental conditions at alarming rates.  More people than ever before are being treated for numerous disorders at alarming rates. It's estimated that 90% of suicides are by those who suffered. The emotional state of people is out of control. Issues of anger, rage, mental torment, thoughts of suicide, bitterness, resentment; shall I go on? These such issues cause problems. And- they cause problems that medication simply cannot heal. The good news is that emotional issues and problems can be healed simply through forgiveness.
You see; in the Bible you may notice something of interest;  God never reacted. Jesus didn't either. Neither of them were living in outbursts of rage, hostility toward people; yet one could argue they would have good reason right?  And yet they were stable; in all things regardless of what surrounded them. And this is where we must get to. Peace in living in all things.
We must get to a place of not allowing ourselves to live in such states of disarray. We cannot be duped any longer by living  by our emotions because in the long run it only leads to death. How could it possibly lead to anything other than that?
If you are being led by your emotions you are probably living on a roller coaster ride; hating Trump or hating the protesters all the while the media fuels the fire that is burning you. Let it be clear on both sides of the political fence are bitterness, hatred, hostility and unforgiveness. There is no way to change the past although there is a way to be free from it. And that is through forgiveness. You may be living in the torment of what your parents have done to you or what your spouse may have done; or that you weren't good enough for the NFL or wasn't quite the Cowboys cheerleader and all the things that come with the areas of life.  Maybe you were passed over for the promotion that should have been yours; except your anger got the better of you and others saw it. It ruined your chances.  It's time to grasp the reality that going forward requires forgiveness more than a cover up.
You see; medication isn't a cure all. No amount of pharmaceutical drugs will truly reach your heart; your soul for life change. (and I am not saying stop taking your medication) No they just cover them up and when you can't afford them anymore you will still be what you are. So what is that that you really are? I ask you on this day- what really are you? And who do you want to be? The peaceful, stable, loving person who cares for others and wants to see the good in people? What is keeping you from getting there? Nothing that you can't handle.
When you see that today's society is fully in play on your emotions things will change. The goal is to steal you from being able to think, to spend your money properly; to love and to forgive others and yourself. It's really that simple. So long as you are trapped into being the wretched ignorant crazy person living paycheck to paycheck with no disposable income then you are right where they want you. The eye catching ads of everything to manipulate you into thinking that you actually need that and that your life will be better. No it wont. The manipulated video clips the media plays repeatedly to program your thinking will not free you. Anything that you allow to cause your emotions to be stirred is not of God. Remember Jesus was not reactionary in anything and look at what He endured. If you claim to be His follower then don't be surprised the attacks would come to you too.
I didn't know just how out of control my emotions were when I lived in unforgiveness. I didn't know I was angry. I had no clue. I was hurt and that hurt was released in a variety of ways. Many I had no clue about. And you probably don't either. You may excuse by saying 'Oh I'm Italian' or something like 'Oh that Irish temper' when in fact that is not true at all! There are plenty of calm Italians and Irish; so if you are not then why not?
The Bible commands 'Refrain from anger and turn from wrath; do not fret—it leads only to evil.' (Psalm 37:8) It continues also to read in Hebrews, 'See to it that no one falls short of the grace of God and that no bitter root grows up to cause trouble and defile many.' (12:15 NIV) There is always something for us to do in order to achieve all that God has in store. It does require us to be like His Son Jesus. And in doing so it is not being deceived, led by our emotions; and carrying on like crazy people or zombies. 
As you make the choice to forgive your life will change. What I can tell you personally is that my eye color changed, my voice changed and my thoughts of my mother changed. I hated her for many years and now I love her like Jesus does. She is a child of God and for me to have fury toward her simply is not of God. It was a process although a process of release of the emotional turmoil and torment that I lived in for many years.
What I also can tell you is that most have no clue the depths of how to handle it. It's not their fault though. The professionals are not trained in overcoming emotional issues through forgiveness and I didn't know that either; because I didn't know unforgiveness was my issue. And so if you want healing to the full it will require a way that once was conventional that now is considered extreme; yeah the Bible. Go figure that what works is demonized but these are the days and times we are in. 
When you go before the Lord to deal with your forgiveness ask Him to heal your emotions, to remove the pain, the torment, the bitterness, the resentment, the rage, the hurt, the hostility, the indignation, the tears and then ask Him to fill you with His Holy Truth. Ask Him to remove the emotional flow of all those things to you and you will feel release. You will feel the chains drop. You will feel the flow of all things not of God. You will feel above all the healing and the presence of God Himself. And through that one act of obedience your life will forever be changed. And then when you are through with that; ask Him to bless those who have hurt you; and again your life will change through that one act of obedience. The best part; no pills, no copay. Nothing but you and God.
To bring Julie to your church or business to speak visit www.julieblair.com
For more about forgiveness and walking with Jesus watch 'Living in Forgiveness' weeknights at 9:30pm CST on the UANetwork.
Deliverance comes through many avenues and I remember the time when I just needed to be delivered from myself. I just couldn't take it any longer. What I didn't know was that all the time I spent seeking all the other ideas it's what God revealed to me that forever changed my life. I needed deliverance and now understand that there is deliverance through forgiveness. That deliverance will too change your life.
You see Jesus came to set the captives free. So then ask yourself: "Am I free? Am I really free?" If you look deep within are you where you want to be? Have you achieved what you want to achieve? Are you living in the full abundance of what God has in store for you? If not why not? It's all there; waiting just for you.
I knew there was a whole life for me. I knew it but knowing it didn't change anything. I can know the sky is blue but so what? I felt for many years that I was retarded but couldn't fix it. If you have been there you know how frustrating that it is and that it's the most helpless feeling in the world. The best news is that as you forgive your deliverance and healing will be evident. How do I know? Experience.
The level of unforgiveness I allowed in my life was killing me. It was a slow death for decades and while I felt justified in harboring it; there could be no times of refreshing until I made the choice to be refreshed. Acts 3:19 is clear to 'Repent, and seek forgiveness so that times of refreshing may come.' NIV) So when we look at this first it starts with a repentance and then forgiveness. What comes after the seeking of forgiveness is the refreshing. This makes it clear that there is 1) a process to follow, 2) something that occurs during that process, 3) there is an end result.
For me it was the end result I was after. I wanted peace. I wanted to grow closer to Christ. I wanted an expanded territory. I wanted so much internally and prior to the point of forgiveness; I had no means of getting it. I couldn't. What the process of forgiveness reveals is that there it is in and of itself deliverance. As you forgive you are being delivered of that which is not of God. As you forgive in accordance with His Word you are being forever changed into the person He created you to be. As you forgive the past will remain where it needs to be; behind you.
You will no longer do or be; or desire what you once did because you will be delivered as you forgive. You don't need more therapy to talk about how you feel about the past. You don't need to dwell on what others have or haven't done for you that they don't even know they should or need to do. You don't need to focus on what you are or are not. You don't need any of that. You only need forgiveness to move through you swiftly so that you are delivered. Remember that you don't need to pray to be delivered for your trials for your trials are your deliverance; and through forgiveness you are delivered.
With forgiveness comes many benefits. Alike; through unforgiveness there are many consequences. One must choose. The benefits of a lifestyle of forgiveness are vast in nature and should you want to live in victory or in abundance of God's Word; then forgiveness must be the choice.  Of course today there are simply five; but rest assured there are many more available to those who are ready to receive.
1. Forgiveness Brings Emotional Stability.  Unforgiveness and forgiveness both bring emotions; it's simply a matter of which emotions you wish to exhibit. Through unforgivness comes such emotions as depression, anger, impatience among others. When forgiveness is the chosen path; you will be choosing one filled with joy, peace, patience. When what kills is replaced with what brings life; it is reflected in every area of life and the emotions are one such way that your life will change.
2. Forgiveness Delivers Better health. What's on the inside manifests outward. It doesn't matter if good or bad; both manifest outward. Unforgiveness is known to be linked to arthritis, hypertension and other painful ailments. The best way to get healing obviously would be through Jesus Christ since He is the Healer; but also through forgiveness in His name. See; Acts 3:19 is clear to 'Repent, and seek forgiveness so that times of refreshing may come.' (NIV) It is through this that there can be deliverance. When internal clutter is removed it allows the body to be transformed. In my personal life; when I forgave those who hurt me my eye color changed. I was no longer who I was and my physical body showed it. Forgiveness really is the greatest weight loss and cheapest face lift!
3. Forgiveness Enhances relationships. The best way to enhance your relationships and even keep them is to forgive. Harboring unforgiveness only keeps people at a distance from you and it decreases your ability to create any time of intimacy. It is bondage that protects when in actually it doesn't protect it harms more! Unforgiveness along with its symptoms diminishes partnerships, friendships, marriages and any other type of relationship it can. Be on watch and forgive so that your relationships will be enhanced through forgiveness.
4. Forgiveness Increases in opportunities. With a clean and forgiving heart there is love; and more love than you can ever imagine. And who doesn't want to be part of that? Who doesn't want to experience love? Through forgiveness opportunities will increase simply because of what flows from you to others. Forgiving people are patient, they are givers, they are enjoyable to be around. Those traits in and of themselves are those that will increase opportunities. If you want better business deals, more effective employees; a date or better marriage forgive. It will change your life.
5. Forgiveness Allows the ability to grow closer to God. Anything you choose in life not of God is not of God and will not bring you closer to God. Period. It is not possible to be for God and then make choices that go against His Word. It's like saying you love life and then choose abortion; or saying you are for God and hating Israel. The two cannot coincide.  Forgiveness removes the separation from God and not only grows you closer to Him; but also increases your wisdom, understanding of Who God is; and the purpose for your life. You cannot know why He created you unless you know Him. It is through obedience to Him and forgiveness; that your life will change. Trying to get from God through disobedience does not work. It cannot. Let us not forget it was His Son who died for your sins. It is through His Son that you can grow in relationship. Forgiveness is the doorway.
In the end forgiveness is life changing. There is nothing that will enhance your life more than forgiveness; and nothing that it will steal your life than unforgiveness. It's your choice what you will have in your life and the steps that you are willing to take to get it.  The benefits of a lifestyle of forgiveness are the expectation and requirement of every Believer. The benefits of a lifestyle of forgiveness are designed to give you life in abundance; and to the full.
Images belong to their various owners.
Everything in life begins with a thought. It all does. Sex, shopping; buying a pug. It all begins with a thought.  Adam and Eve thought and then looked at the fruit; seeing it was pretty to the eye. Forgiveness is the same. In order to get to a place of forgiving; you need to prepare your mind to forgive. It begins with the thought.
Let's face it; forgiveness is not easy. This is why the weak do not do it. They can't. Why can't they? Because they cannot get their minds to a place of surrendering. The concern with this though is that as a result of choosing not to forgive; they instead choose death by default. How so? God's Word says. In Deuteronomy 30:19 it plainly reads, "This day I call the heavens and the earth as witnesses against you that I have set before you life and death, blessings and curses. Now choose life, so that you and your children may live…" (NIV) So it's a choice. The choice to get your mind prepared is what must be done if you want victory to the full.  So it begs the question: what are you really preparing your mind for? You are preparing your mind to:
1. Let Go. Letting go of pain is not an easy task by any means. I remember in 2006/7 NYE when I had to forgive everyone who hurt me in my past I wasn't sure how. I also wasn't sure if I could do it to be honest with you. The amount of pain from my biological mother abandoning me was so painful. The pain of my adoptive parents putting me in a homeless shelter was even worse. It all ran so deep.  But here is the thing: if I wanted what I wanted I had to. I wanted the torment to go away. I wanted the ministry God sent me to Dallas to start. I wanted freedom!
I had to get my mind in right alignment with God's Word in Romans 12:2 where it reads, "Do not conform to the pattern of this world, but be transformed by the renewing of your mind. Then you will be able to test and approve what God's will is–his good, pleasing and perfect will." (NIV) Until my mind was renewed; nothing would change or at least nothing that I wanted would change. The same for you. Letting go and letting God was one of the most amazing experiences of my life. It brought my relationship with Him to a different level because it meant I didn't have to go it alone. I could drop the burden at His feet and He would be there. He is there for you too; it's just a matter of your mind reconciling that.
2. Be healed. Healing comes through forgiveness. I didn't get it until I got it. I didn't know just how much I would be healed from. I had to get myself in order to be healed and believe that I could and would be. It was hard to say the least. In reality; I didn't really know what it meant. I just knew I needed to forgive. During the time of forgiving all the people who hurt me I started to feel different. Every person and every act that I had to forgive was hard in the beginning; but then as I forgave more the power within grew. Obviously this would make sense because the more of me that was removed; the more of God was there and able to truly operate. I was able to not only forgive; but receive healing spiritually and physically. Some of the healing that took place was the restoration of relationship with my biological mother and other relationships. In the physical; my voice and eye color changed. Imagine what healing you will have when you get your mind in order to forgive in accordance with His Word.
3. Go forward. Preparing your mind to go forward can be a challenge; especially if you have lived a life in unforgiveness! It's hard to imagine what life without all the internal turmoil would be like that's for sure. Unforgiveness keeps you stuck. Period. If you are not receiving all of what God has for you; there is a reason. Most likely that reason is not that God is so mean and is picking on you. That mindset is purely one of a victim sissy living in blame of God when in reality my best guess is if you get truly serious and dig deep and ask the Holy Spirit to guide you; you will find there has been deep rooted unforgiveness manifesting along with about 40 symptoms of it that you probably don't even know about. It is not possible to live a life moving forward focusing on stuff from the past. I tried. Trust me it doesn't work. Going forward with unforgiveness is like trying to drive a 2-wheel SUV through a Colorado blizzard wondering why you are stuck. You will need something much stronger to get out!  When you get your mind right and are ready to go forward leaving the pain of the past behind your life will change in ways beyond imagine!
See; everything starts in the mind. I didn't get that until long after I dealt with the amount of unforgiveness I had. I sat in a room for 2 days over NYE 2006/7 dealing with all the unforgiveness I had. I had to deal with it once and for all. There was no turning back; and there really isn't for you either. This of course if you want the real life that God created you for.
Once I grasped that God's Word is not a joke when it reads, "The thief comes only to steal and kill and destroy; I have come that they may have life, and have it to the full" in John 10:10 my life changed. I got the revelation that what I continued to allow was the enemy to win. It was a war for my life and it is for yours too. It is time for you today to get the reality that should you claim you are a Believer and confess with your mouth that Jesus is your Lord and Savior you can do all things through Him who gives you strength. This means you have the power within you to get your mind prepared to forgive; and then forgive. Don't be deceived into thinking you can't as that too is a lie. Prepare your mind and get ready for the battle; and the victory waiting for you!
When it comes to forgiveness; there is much that people do not understand. The health benefits of forgiveness is just one area of forgiveness that changes people's lives. What occurs internally is reflected externally; therefore dealing with the unforgiveness and its symptoms will not only change your health but your life too.
Some basic health benefits of forgiveness are:
1. Lower blood pressure. When a person lives in unforgiveness even the mention of the person or situation that brought the unforgiveness brings an increase in blood pressure. The very thought of what occurred in the past is where it begins and it's rooted in still living in unforgiveness. When unforgiveness is dealt with to the full; any mention of a person or past situation will have no impact of change to blood pressure or emotional flare-up.
2. Less depression. Unforgiveness keeps people in a state of depression. Why? Because unforgiveness keeps people living and focusing on people and events of the past; all of which are not the most pleasing or happy. When time is given to negative and hurtful things in your mind it will then progress to behaviors, actions and attitudes toward it. If you want to get free from depression; forgive.
3. Less arthritis. Arthritis has been linked to unforgiveness. The spill over of bitterness is also deep rooted because bitterness is spiritual poison.  When the joints and bones start rotting there is a clue that something spiritual is taking place. What you see coming out of a person is from within. Psalm 31:10 "For my life is spent with sorrow, my years with sighing. My strength fails because of my iniquity [guilt]. My bones are wasted away."
Making forgiveness your lifestyle should be a priority; moreso than taking any medication that merely masks it. Forgiveness will change your life. For me the benefits are huge! My eye color and my voice changed once I dealt with all the unforgiveness that plagued my life for decades. My relationships have changed for the better as has my health. So I ask you: how is your health? If you want better health then start forgiving. Ask the Lord and Holy Spirit to reveal to you where that unforgiveness is; and to whom you need to forgive. Don't deceive yourself into thinking you are so above it- as that too will only lead you to your own path of destruction. Get forgiving and get the healing that will free you and your future!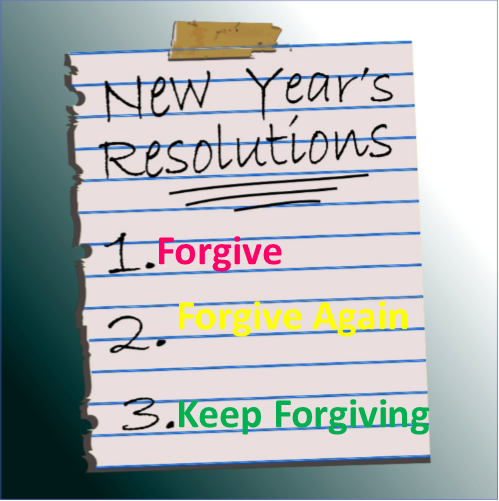 The new year brings many resolutions. Lose weight, be nice; clean out the clutter and the list goes on. The one resolution that should be part of your new lifestyle of the new year is simply this: forgive. Make a life of forgiveness your new years resolution. It's that simple. Just do it!
Why? If you want healing then forgive. Healing comes through forgiveness. Restoration can come through forgiveness. Weight loss is spiritual terms comes through forgiveness. Broken hearts too are healed through forgiveness. In my case; my eye color changed through forgiveness. Blessings come through forgiveness.
If you are living in lack currently there is a reason and it isn't because everyone else isn't nice or giving to you. There is a reason. It may very well be that you are living in unforgiveness. Make today the day and this moment the moment that you seek Him to know the truth; ' is there any unforgiveness in my heart Lord?' And then don't forget about bitterness, resentment and anger as those also cause havoc on the life of a believer.
Regardless of what someone else has done to you; you are stronger forgiving than you are unforgiving. Don't let the mistakes of other keep you living last year. Start the new year fresh and forgiving! It will change your life and what better way to start the first day than that!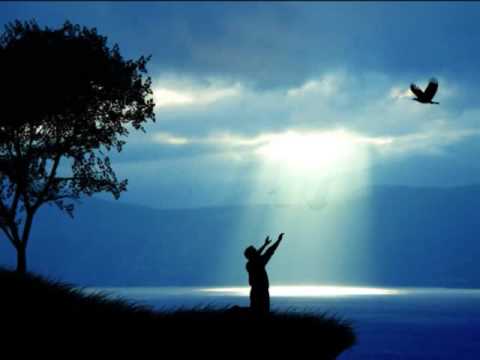 When you look around society what do you see? Riots? Killings? Murders for nothing? Infidelity? Perversion at it's highest extent? Abortion? All of it? To which then the question is: how do you forgive the unforgivable? And furthermore; what makes it unforgivable in the first place?
The most difficult part of forgiveness is getting to a place of breaking self away from what the act was that needs to be forgiven. People are ignorant. None are immune. Not even you. What someone did to you hurt. No one is doubting that. It hurt. There is pain. The length of time you allow that pain to be in your heart, soul and mind is all on you. Let us not forget too what you too have done to others may be deemed unforgivable. But is it really?
What has been done to you and what you have done to someone else can be forgiven. It can be! Jesus came to set the captives free. This means 'you' too! It doesn't matter if you are were a stripper, addicted to pornography, cheater, murderer; or even terrorist. There is forgiveness and the most unforgivable act can be forgiven. All you have to do is get to a place of receiving it. Jeffrey Dahmer even received forgiveness!
When we judge ourselves we miss the point. When we judge others we miss the point. The time spent in unforgiveness keeps you seeing the outcome of forgiveness. It keeps you living in bondage and turmoil; and not living in freedom and your true calling. It's time to break free. It's time to stand up and forgive. It's time to stop the riots in Ferguson! It's time to stop the war against the Ukrainians! It's time to stop to persecution of the Jewish people! It's time to forgive and start the healing process.
It all starts with you. It starts right now with you seeing that the most unforgivable in your mind is just in your mind. Let it go. Forgive. Simply forgive. Change your life. Forgive. Change your family. Forgive. Change your community. Forgive. Change your nation. Forgive. Just do it. Forgive the unforgivable and let your strength shine. Do it today!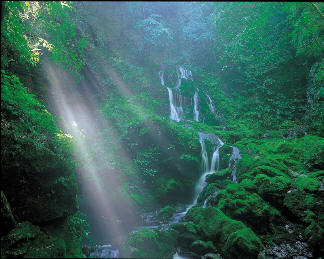 The American lifestyle is one of hurriedness, more products to sustain the 'I-Life'; eating along the way to making more money. Should it be no wonder why unforigveness and forgiveness aren't commonly talked about? Who has time for it? But yet; if not talked about what changes will you know of that come after forgiving?  Now it's not to say that those in Israel, Ukraine; or anywhere else in Europe or around the world are any more or less forgiving than Americans; however, a lifestyle of not stopping keeps one from seeing the bigger picture?
So what does happen when one forgives? Does anything change? Of course! There are many things that change after a person forgives.  Three things that change when you make the choice to forgive are:
1- Your heart changes.  Unforgiveness roots itself in your heart and when that unforgiveness is gone; there is a release. A release for your heart to feel new experiences; to love.
2- Your perspective changes. Nothing is as it was once you forgive. When I forgave my biological mother I learned that she suffered many terrible things in her life. It changed my perspective toward her. I was able to accept her right where she was; regardless of the mistakes she had made.  How many people in your life would you see different do you think? You don't know unless you make the choice to forgive!
3- Your physical body changes. When your body is filled with negative thoughts and spiritual poison; it reacts to it. Dr. Caroline Leaf, who is a cognitive neuroscientist has found that what's in the mind impacts the body and when choice are made for better or worse; it manifests itself physically. When I made the choice to forgive all those who caused me much pain not only did my voice change but my eye color too. It is not possible to deal with internal issues and not see the outer reflection of them. The opposite is true.
Forgiveness is the one thing that will free you internally. It will change you, your life and those around you. It will soften your heart to see the beauty in others. It will change your perspective to see that perhaps in all of your correctness; you were still wrong. It will change your body so that people see the light that is within you. It will do amazing things if you only you make the choice to forgive. It's that simple. Forgive. Do it today.
The eyes reveal much.  There is no doubt. What you see is something that should be paid attention to; or else the entire essence of the message is lost. There is no time to not see what is being revealed. Never. Not when what is what is being shared is probably the most personal and insightful intimate thing that the person is revealing. To ignore it is sin.
I speak at women's conferences and retreats about beauty and image; although not from the perspective most think. Beauty isn't about the focus on the outward person. It just isn't. I do understand that men are visual so there is no need to dispute this. We know and yes we also know that women are visual too. The point is that true beauty goes beyond what people see initially and it's so unfortunate that our culture is so focused on what they see instantly instead of what they would actually see if they took more than a second.
In a consumeristic society the trends are buy more of this, show more of that; leaving woman and young girls more confused than ever as to what beauty is. It's unfortunate that as a gender we have lost our way.  Beauty in reality should be reflective of the essence of a woman and with more healing from past wounds only allows the internal light of a beautiful to shine through.
When we cover our eyes from the pain from the past or  use clothing to reveal what need not be to the world; we only distort the true message of our personal beauty and value. This must be undone. We cannot continue to allow our beauty to be hidden all the while letting society use us for the sake of selling what they deem beauty is when in fact it is nothing more than fleeting.
Years ago I tested a theory of a woman's dress to the level of eye contact she received from others. The findings revealed the more revealing the clothing less eye contact the woman received. Whether or not the clothing choices were conscious or subconscious wasn't the exact point.   What was most telling was that of the women's beauty and direct line to who she is was the most hidden. The clothing proved to be a distraction from what women wanted revealed. That saddened me then and still does today.  It told me that women are deceived to thinking that they are nothing more than objects to be looked over instead of looked at. Nothing is further from the truth.
While we have a long way to go to get to the definition of what beauty is known this: the world and Word have different ideas of beauty. Don't get caught up in what anyone other than He says about how beautiful you are; and how your eyes are the light to your soul. Work inward first as the more you do the more of your beauty will shine through; and it's time the world gets to see your little light shine. Don't you think?