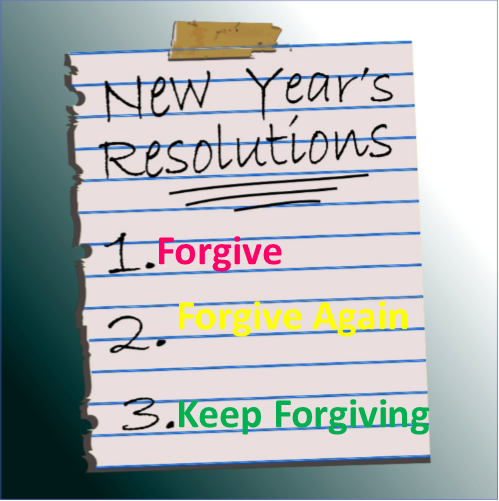 The new year brings many resolutions. Lose weight, be nice; clean out the clutter and the list goes on. The one resolution that should be part of your new lifestyle of the new year is simply this: forgive. Make a life of forgiveness your new years resolution. It's that simple. Just do it!
Why? If you want healing then forgive. Healing comes through forgiveness. Restoration can come through forgiveness. Weight loss is spiritual terms comes through forgiveness. Broken hearts too are healed through forgiveness. In my case; my eye color changed through forgiveness. Blessings come through forgiveness.
If you are living in lack currently there is a reason and it isn't because everyone else isn't nice or giving to you. There is a reason. It may very well be that you are living in unforgiveness. Make today the day and this moment the moment that you seek Him to know the truth; ' is there any unforgiveness in my heart Lord?' And then don't forget about bitterness, resentment and anger as those also cause havoc on the life of a believer.
Regardless of what someone else has done to you; you are stronger forgiving than you are unforgiving. Don't let the mistakes of other keep you living last year. Start the new year fresh and forgiving! It will change your life and what better way to start the first day than that!